Beijing tourists spend big on trips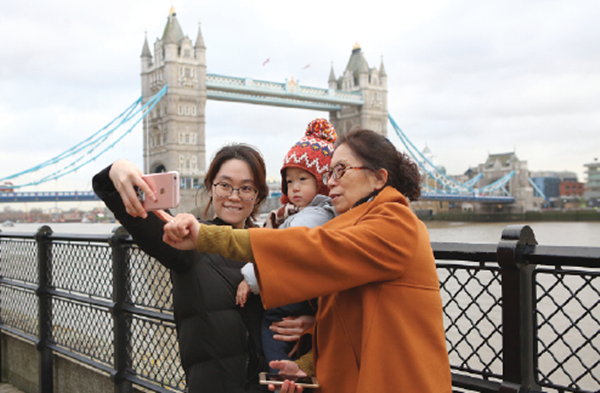 Three Chinese tourists pose for a selfie next to the River Thames in London.[Photo/chinadaily.com.cn]
Beijing residents were the biggest spending Chinese tourists last year, paying on average 4,100 yuan ($594) per trip, according to a report by China's largest online travel agency Ctrip.
Shanghai residents followed, spending 3,892 yuan on each trip, but overtook the capital when it came to overall spending on travel. Second and third-tier cities such as Shenyang, Whenzhou and Dalian also ranked high on the list due to the growing popularity of overseas routes in these regions.
In 2016, Chinese people spent a total of 4.66 trillion yuan on 4.56 billion trips, or three trips for every 1.3 people.,About 97 percent of their destinations were within the country's borders, while only 2.6 percent ventured overseas.
Domestic tourism revenue reached 3.9 trillion yuan in 2016, a 14 percent increase from the previous year. The report found that destinations with good environment, climate and distinctive character such as Hainan, Yunnan and Sichuan province often lure more tourism dollars.
Trips to Lhasa in Tibet autonomous region, Urumqi in Xinjiang Uygur autonomous region and Lanzhou in Gansu province cost the most partly due to the longer traveling distance and time involved.
Almost 110 billion yuan was spent by Chinese people on overseas holidays. On the other hand, foreign sightseers spent $120 billion in China last year.
The report also noted that more people booked their trips online in 2016, spending some 603 billion yuan in online transactions. Ctrip said the main online spending of its users was on transportation, hotels and tourism products such as tickets and tour groups.
The priciest deal available on Ctrip website is an 80-day round-the-world trip worth 1.38 million yuan, while the cheapest is one yuan admission to some tourism attractions..
Most of the travelers were aged between 25-55 and 35-45 year olds spent the most on their trips, the report said.
Ctrip predicts that Chinese people will make over 5 billion trips at home and abroad this year and the overall spending is expected to create a new record of more than 5 trillion yuan.