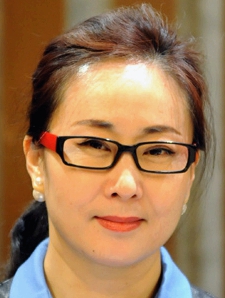 Lei Tongxia CHINA DAILY
Lei Tongxia first encountered Longju Drama, a unique traditional opera from Northwest China's Gansu province, when she was 12 and living in a local village. Since then, she has been addicted to it.
"In the beginning, I sang and danced with old villagers for fun, or I just performed it to kill time and wanted to perform with others in this way," said Lei, 50, who is vice-president of the Gansu Dramatists Association. "But to my surprise, the Longju Drama, which is filled with magic power, has influenced my growth since then. I went on to learn a lot about traditional drama and decided to be a professional performer after I went to a local art school."
As a first-class State artist, Lei often took the piece to grassroots areas where such entertainment originated during the Han Dynasty (206 BC-AD 220) out of the folk tradition, with narration and singing first accompanied by percussion instruments and later by the melodic sounds of shadow puppetry.
As a deputy to the 12th National People's Congress, China's top legislature, she now has concerns about how to protect, develop or even "rescue" such drama as it disappears across the country.
Now, the number of performers of such work in the province's State-owned theaters numbers fewer than 300, she said. Only around 80 of those based at her workplace, the province's Longju Drama theater, are still able to perform the work.
"The problem of preserving such traditional arts has been serious in recent years because people, especially young people, have no idea about them and do not know how to learn the skills, even if they are interested in them," she said.
Lei submitted a proposal during this session, suggesting governments find ways to incorporate traditional drama-related knowledge into music classes and popularize them among students in primary schools.