Xi urges political advisors to offer more advice on state affairs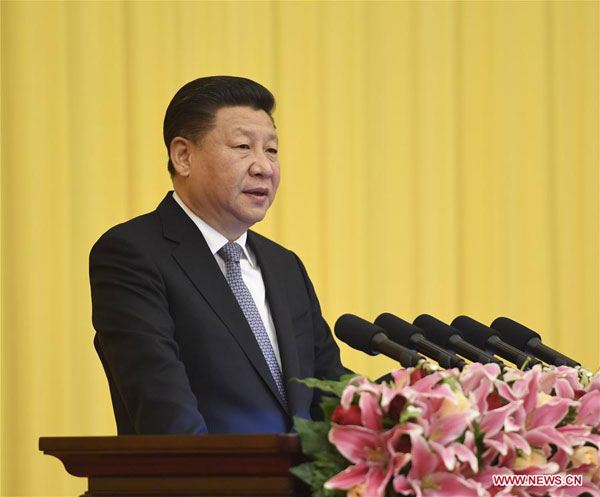 Chinese President Xi Jinping addresses a New Year gathering of the Chinese People's Political Consultative Conference (CPPCC) National Committee in Beijing, capital of China, Dec 30, 2016. [Photo/Xinhua]
BEIJING - President Xi Jinping on Friday called on political advisors to conscientiously perform their duties in 2017 and give more advice and suggestions on state affairs.
Xi, also general secretary of the Communist Party of China (CPC) Central Committee and chairman of the Central Military Commission (CMC), made the remarks while addressing a New Year gathering held by the National Committee of the Chinese People's Political Consultative Conference (CPPCC).
Xi urged political advisory bodies to perform their functions of political consultation, democratic supervision, and participation in the deliberation and administration of state affairs.
The president hailed the CPPCC's contributions to the 13th Five-Year Plan (2016-2020) this year, the first year of the national economic and social development blueprint for the years up to 2020.
Xi stressed the importance of developing a patriotic united front and system of multi-party cooperation and political consultation under the leadership of the CPC in 2017 in order to gather consensus and "positive energy" for the rejuvenation of the Chinese nation.
The CPPCC should make efforts to deepen problem-oriented investigation and research, and carry out effective consultation and discussion of state affairs, so as to come out with forthright advice, good suggestions and concrete measures, he said.
Xi vowed to support the efforts of Hong Kong and Macao special administrative regions in 2017 to develop their economies and improve people's livelihoods.
"We must ensure the practice of 'one country, two systems' is firmly upheld without losing shape or becoming distorted," Xi added.
He also pledged adherence to the 1992 Consensus as the common political foundation, as well as relentless efforts to boost the peaceful development of relations across the Taiwan Strait, and to achieve the complete reunification of the motherland.
"We will hold high the banners of peace, development, cooperation and mutual gain to build a human community of shared future," Xi said.
In his speech, Xi highlighted the 19th CPC National Congress to be held in 2017, calling it a major event in the political life of the Party, the state and people of all ethnic groups.