Learning Italian fashion in Shenzhen
Istituto Marangoni's second China campus also offers opportunities to study abroad
Italian fashion school Istituto Marangoni has opened its second China branch in Shenzhen, Guangdong province, to help to meet the demand for talent from the local fashion industry.
Classes began last month at the Istituto Marangoni Shenzhen Fashion and Design Training Center, which offers a three-year program in fashion design as well as short courses.
The school also has campuses in Milan, London, Paris and Florence, Italy while its Shanghai branch opened in 2013.
"Shenzhen is sharpening its status as a fashion capital and has also set the goal of becoming an international consumption and economic center. To do this, it needs to upgrade its soft power," said Joe Zhou, director of the training center.
"Apart from high-end fashion designers, the city also lacks quality buyers and professional luxury goods managers, among other things. We hope very much that Istituto Marangoni can fill the gap in high-end fashion education."
In addition to classes in fashion design and marketing, the Shenzhen campus will also provide tailor-made corporate training classes based on Istituto Marangoni's philosophy of creating balance between creativity and commercial interests.
All the teaching staff have come from the school's Milan campus, and students on the three-year course have the choice of continuing their studies in Europe after completing the required classes in Shenzhen.
Students are taught in English with translation and have the opportunity to take additional classes on language and culture if they wish to study in Europe.
Laura Egoli, Italian consul general in Guangzhou, the provincial capital of Guangdong, said that since its founding in 1935, Istituto Marangoni has become one of the most prestigious fashion schools in the world.
"You may have come across some big names in Italian fashion: Dolce & Gabbana, Moschino, Valentino, Versace, Prada, and Armani. These iconic brands have one thing in common - many of their fashion designers were alumni of Istituto Marangoni," she said.
"Students at Istituto Marangoni are given the best tools to stimulate their own growth and are equipped to confidently face the working world. In the meantime, students from all over the world meet and interact through a continuous exchange of ideas, projects, stimuli and vision."
Guangdong ranks first in China for its garment industry, fashion brands, industrial chain and fashion designers.
French fashion design school Esmod launched its Guangzhou campus in 2014, while the Italian Istituto Secoli also opened a branch there earlier this year.
"Guangdong is already well-known for being a fashion manufacturing base, and is proving its design capabilities with more local brands coming to the global market. We strongly believe that the opening of two Italian fashion schools in this province will reinforce the design capacity of Guangdong, and even southern China, in terms of creativity and craftsmanship," Egoli said.
"We hope that more and more Italian universities will broaden their offerings and cooperate with China, grasping the opportunities offered by this exceptional country."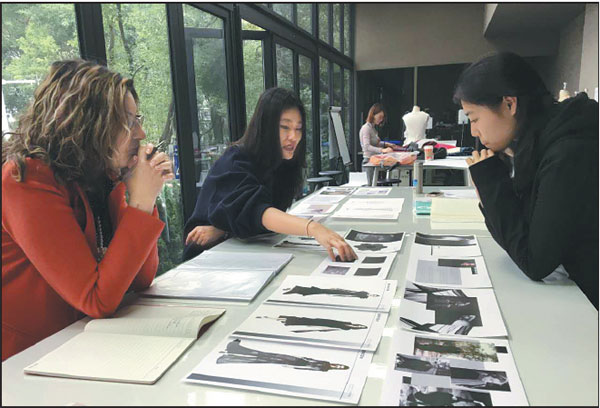 Teachers grade students' work at the Istituto Marangoni Shenzhen Fashion and Design Training Center in Shenzhen, Guangdong province.Provided To China Daily