WHO chief calls for a balanced government policy approach
A balance must be struck between trade interests and the well-being of the people if health is to be positively influenced by government policy, according to World Health Organization Director-General Margaret Chan.
For instance, she said that while all foreign direct investment might look attractive, if such investment comes from a tobacco company or fast-food chain it could be detrimental to people's health in the long run.
Under such circumstances, "the government should look at all the evidence and make a political choice with the right policies", she said, on the sidelines of the ongoing Ninth Global Conference on Health Promotion, which concludes on Thursday.
In China's case, with the State monopoly on tobacco, the government doesn't allow foreign cigarettes into the country, but imported fast food has already made its effects felt.
Research by the University of Nottingham in the United Kingdom found that about 25 percent of preschool children in China are at risk of being overweight or even obese.
"The health of the people should not be sacrificed for profit," said Chan, adding that although business interests might argue that it is an individual's choice whether they eat junk food or smoke, "that's not necessarily the case, at least for children".
The WHO advocates barring the marketing of unhealthy food products to children, and governments must strike a balance between giving adults a choice of foodstuffs and protecting those who are younger and more impressionable, she added.
Chan's comments reflect the spirit of the Shanghai Declaration on Health Promotion, which was endorsed by more than 1,000 participants, including city mayors and ministers, at the conference.
The document recognizes governments' responsibility to ensure people's right to health and the importance of multisectoral collaboration for health promotion.
"The leadership of all countries must balance economic growth and people's health," said Chan, adding that health is the cornerstone of sustainable development.
She welcomed the recent strong commitment by China's leadership to prioritize the population's health.
President Xi Jinping put health at the center of the country's entire policy-making machinery when he made it official government policy to include a consideration of health in all policies at the National Health Conference in August.
"This is a very significant achievement and very few countries have done that," said Chan, pointing to how China's healthcare sector now works in tandem with the environment, education, transport, and urban planning departments, among others.
This results in greater importance being attached to factors such as clean air, safe water and food, and sports facilities, she said.
However, Chan urged immediate action to tackle the rising tide of chronic diseases in China, such as diabetes. About 20 percent of Chinese adults are diabetic and 490 million have abnormally high blood sugar levels, a precursor to the disease known as prediabetes, according to official statistics.
"It's a crucial time for the government to introduce interventions, particularly for prediabetes," she said. "I'm Chinese, so health progress here is important to me on an individual level."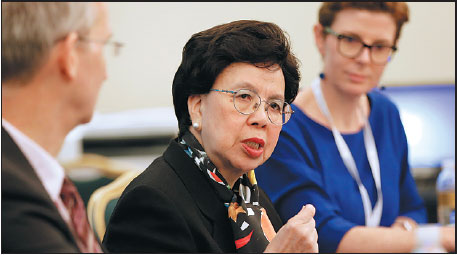 Dr Margaret Chan at the conference in Shanghai.Provided To China Daily