China shivers as snow arrives early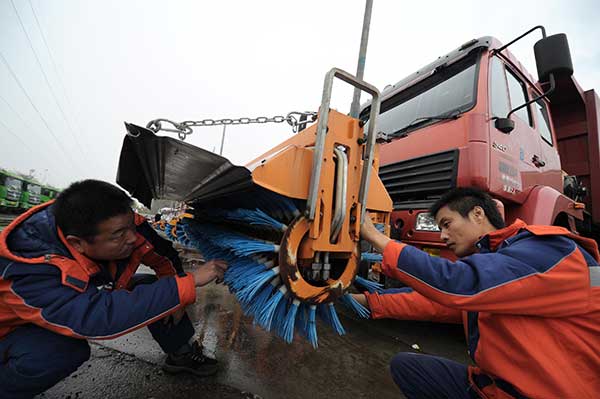 Sanitation workers fine-tune a road-clearing machine on Sunday to prepare for snow in Beijing.Lin Hui / For China Daily
Beijing will see heavy snow at the beginning of the season's coldest week so far, starting on Monday, meteorological authorities said.
Light rain that began on Sunday morning in Beijing is expected to become a blizzard on Monday and Tuesday.
Huang Shuyin, senior engineer at Beijing Meteorological Service, predicted the capital will see heavy snow on Sunday night and Monday morning.
Precipitation is forecast to reach 8-10 millimeters. The city's central and southern parts will see more snow than other areas.
On average, the first snow arrives in Beijing on Nov 29. This year, it's a week earlier. According to historical data, the earliest snow on record arrived on Oct 31, 1987, while the latest was on Feb 11, 1984.
The high temperature for Monday is forecast at -1 C, which will start off the coldest week in Beijing in the past 30 years.
Temperatures will gradually warm up after Thursday, forecasters said.
Bracing for the coming blizzard, authorities have taken measures to reduce inconvenience as much as possible for the public.
The emergency response plan will be activated to clean snow from streets promptly. If it snows overnight, the main roads should be cleaned before 10 am the next morning.
The city's transportation unit has set up 16 headquarters to manage 12,000 people for rescue operations. If the snow results in railway and flight delays, authorities will organize buses, subways and taxis to help passengers change their plans where possible, rather than having people waiting indefinitely at railway stations or airports.
Beijing Capital International Airport advised passengers to double-check their flights with airlines in advance. The public has been advised to stay indoors and warned to take protective and emergency measures against snow and frost.
The road management department prepared de-icing fluid and anti-slip materials for roads and bridges between Saturday and Monday.
A sharp drop in temperature is expected across the whole country in the coming days as a broad cold front passes, the National Meteorological Center said on Sunday.
From Monday to Thursday, temperatures in most parts of central and eastern China will drop by 6 C to 10 C, according to the center.
In addition to Beijing, some parts of Inner Mongolia, Tianjin and Hebei will get heavy snow between 8 am on Sunday and Monday morning, it said.
China has a four-tier color code for severe weather, with red being the most serious, followed by orange, yellow and blue. The center issued a blue blizzard alert and a yellow cold wave warning at 6 am on Sunday.