Welcome home, Shenzhou XI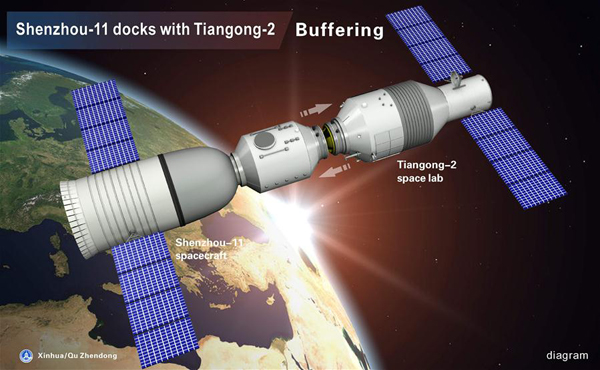 An artists' impression shows the procedure of Shenzhou XI manned spacecraft's automated docking with Tiangong II space lab on Oct 19, 2016. [Photo/Xinhua]
2. The return
To embark on its return journey, Shenzhou XI first detaches from Tiangong II and moves from the operating orbit to the returning orbit.
Before entering the atmosphere, the re-entry capsule separates from the orbital module and service module.
Then, the re-entry capsule positions itself properly to ensure a safe return: if the angle between its moving direction and the horizon is too large, it will burn down in the atmosphere; and if the angle is too small, it will fly over the fringe of the atmosphere and miss the Earth.
During the re-entry into the atmosphere, the capsule encounters intense heat produced by air friction. The temperature goes up to over 1,000 C. The capsule can blaze its way through the heat without being burned up due to special protection.
The electrically charged plasma caused by the intense heat interferes with radio communication, and there is a complete radio blackout until the capsule decelerates to such an extent that plasma is no longer formed – this can take four to six minutes. That is arguably the toughest period for the astronauts because they lose touch with the ground control center. 
At around 10 km above the ground, the re-entry capsule sees its major parachute - as large as 1,200 square meters – opens. The parachute covers the area of three basketball courts.
In the last step, at one meter above the ground, the reverser is put in action for the capsule's soft landing.