Chinese astronauts accept 1st Earth-space interview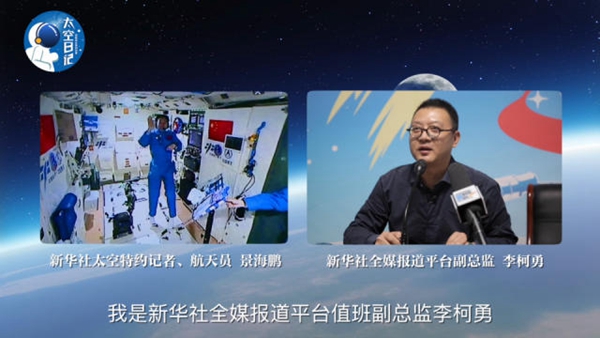 Chinese astronauts Jing Haipeng and Chen Dong are currently on a 33-day space journey and acting as Xinhua special correspondents. On Tuesday, they talked with their copy desk on earth for the first time. [Photo/Xinhua]
Xinhua special correspondent Jing Haipeng and Chen Dong
ABOARD TIANGONG-2 - Chinese astronauts Jing Haipeng and Chen Dong are currently on a 33-day space journey and acting as Xinhua special correspondents. On Tuesday, they talked with their copy desk on earth for the first time.
Following is the text of the conversation.
Li Keyong (associate director of Xinhua All-Media Service): Hello, mission commander Jing Haipeng and Chen Dong! On behalf of all the comrades at Xinhua News Agency, and entrusted by leaders of Xinhua, I want to extend our special respect and gratitude to you, two special colleagues! The space journals which you authored as Xinhua's special correspondents have registered over 100 million views. This is the first time in history that astronauts have sent reports back to Earth as news correspondents. In front of audiences nationwide and worldwide, do you want to say anything?
Jing Haipeng: So far, Shenzhou-11 has been in space for exactly 30 days. During these 30 days, after work we look out through the porthole to see the landscape and view the world. When the spaceship is over China, we two feel especially excited. Honestly, even in the wildernesses of space, we can always feel the love from our motherland and families, as well as the encouragement, care and support of Chinese all over the world. We would like to take this opportunity to thank people all over China and to extend best wishes to Chinese around the world.
Li Keyong: After a few more days, you will come back to Earth. As you are about to say goodbye to space, could you describe your feelings?
Jing Haipeng: Our leaders, colleagues and comrades-in-arms on earth have been supporting us these days. They work around the clock, cheer us on and provide us with all-round support. There are still two more days to go, and we will be more meticulous and strict on every detail so as to ensure safety of the payload.