Ji Yanmei, a 36-year-old female fashion designer from Beijing, started online financing three years ago.
At that time, she had 2,000 yuan ($300) in an online shopping account. But by the end of last year, she said, it had grown to the tidy sum of 100,000 yuan, boosted by investments ranging from bank-financing products to a crowd-funding project for raising sheep.
"Online investment is just online shopping that gives you special satisfaction," said the mother of two.
Ji is not alone. Breaking the stereotype of irrational shoppers buying bags or cosmetics, Chinese women are more engaged now in domestic investment.
Their top choice, according to the 2016 Women Financial Management Report, co-published by Alibaba's Ali Research, is online financial trading. The study, which was based on 10,000 questionnaires, looked at women's consumption, asset amount and financing preferences.
With increased income and better education, 64 percent of those surveyed said they were in charge of family spending, with priorities on children's education, home improvements and health insurance.
Additionally, 60 percent said they were responsible for family wealth management.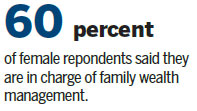 Compared with men, women are more conservative investors and tend to diversify investments for safety reasons, the report said. In addition to online finance, women choose deposits while men choose stocks, it said.
According to the report, those with an annual income of 80,000 to 150,000 yuan were most interested in online finance, while those with annual income of 200,000 to 500,000 yuan were most involved in investment, with 77.3 percent investing more than 100,000 yuan.
Online finance products are the top choice for 75.9 percent of the women surveyed, and 30 percent of them invested more than 50 percent of their capital, according to the report. Their investment targets include monetary funds, insurance and consumer finance.
"Women born in the 1980s and early 1990s are the backbone of companies, and their income is almost the same as men's in China," said Hao Jianbin, head of employment research at Ali Research.
"Moreover, women have the habit of online shopping, which makes them very sensitive to online finance."
Lian Ping, chief economist from Bank of Communications, said that "internet finance should also follow the regulations of financial institutions as banks and insurance companies to protect investors".