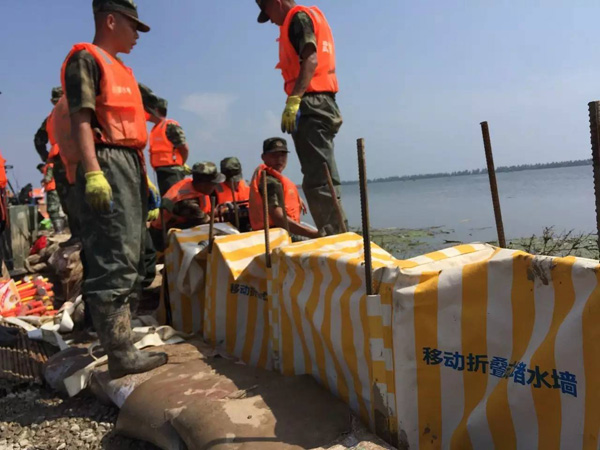 Armed police install a movable folding water-blocking wall on a dike of a lake in Anhui province. [Photo/CCTV]
Armed police are using a new movable tool for the first time to prevent flood water from breaching dikes in the eastern province of Anhui, the news app Qilu Yidian reported.
Continuous heavy rains have caused the water of rivers and lakes in the province to rise to warning levels, and armed police have carried lots of sandbags to reinforce the sections where water might overtop the dikes.
Along with the sandbags, armed police used a special tool, called movable folding water-blocking wall, to reinforce the dikes.
The new tool is actually water-proof bag in white and yellow. Each bag is 6 meters long and 60 centimeters tall with all parts fully extendable. It is fixed to the ground with steel bars and filled with water.
Armed police can finish the installation of each bag in about 10 minutes, nine times faster than building a wall of sandbags equivalent.
Some internet users have recently questioned why soldiers do not use portable aluminum alloy flood walls like Germans do but still carry so many sandbags, a time-consuming and laborious way.
The fact is that these aluminum flood walls are mainly constructed on pre-built concrete basements.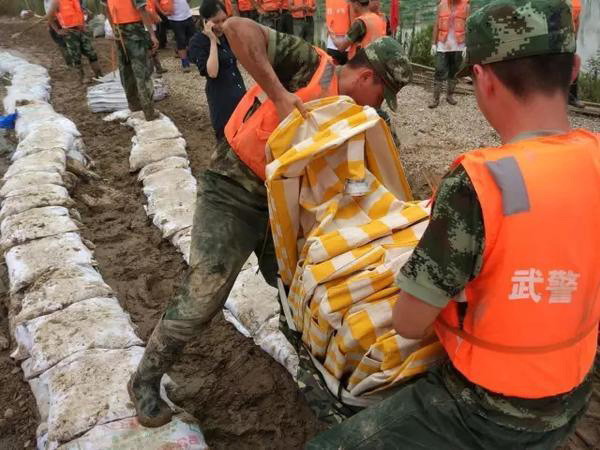 Armed police install a movable folding water-blocking wall on a dike of a lake in Anhui province. [Photo/guancha.cn]