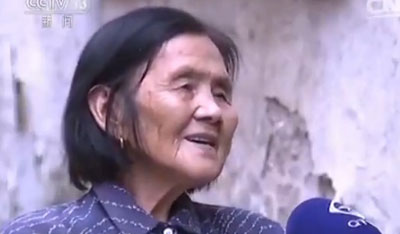 Mao Shihua in an interview. The 83-year-old has been selling affordable breakfast to students in Huangtankou Primary School in Huangtankou township in East China's Zhejiang province for the past 24 years.[Photo/CCTV]
In the coastal province of Zhejiang, what can you buy with 0.5 yuan (8 cents)?
In Huangtankou, the answer is breakfast. For the past 24 years, 83-year-old Mao Shihua has been selling breakfast for 0.5 yuan each item to primary students.
Every day, Mao gets up at 1 am to prepare ingredients for the breakfast. At 5 am, she rides a tricycle loaded with her stall equipment to a place hundreds of meters away from Huangtankou Primary School, where she waits for her customers.
Four coal stoves, three frying pans, three aluminum pots and several plastic stools… the stall of Mao Shihua is simple, but it is quite popular with the students at the Huangtankou Primary School.
"I started having breakfast here since I was a second-grader. The food here is the most affordable. In other places, merely a zongzi costs two or three yuan," said six-grader Lyv Zhihao.
Mao Shihua is picky about the quality of her food. She insists on using the best ingredients. The soybean milk is freshly ground and the eggs are cherry-picked. But she does not care about the money very much.
Asked about the profit her business makes, she could not give an exact answer. "I can roughly recover the cost," she says. Mao receives 1,040 yuan of pension each month and she spends some to cook breakfast for the students.
"We all know she could not make money. She even loses money," said Mao Yongsen, the owner of a neighboring breakfast stall. "The costs for ingredients today are not comparable with that of 24 years ago."