But opponents say the fierce sport is a form of animal cruelty that belongs in the past
After a fierce fight, silver-haired Ismail Iblahim took out his medicated liquor and prepared to give the champion a massage.
"This helps him relax," said the 60-year-old, while soothing his big black rooster.
The man and his bird live in Turpan in Northwest China's Xinjiang Uygur autonomous region. The city, less than 200 km from the regional capital Urumqi, is one of four in China with a long cockfighting tradition.
Turpan's famed Flaming Mountains, which appeared in the Chinese classic A Journey to the West, and its ancient ruins, Buddhist grottoes and other archaeological sites, drew 5.12 million tourists last year, up more than 10 percent from the year before.
The city and its occupants are hoping cockfighting will help them grab a chunk of the region's growing tourism revenue, which reached 5.1 billion yuan ($788 million) in 2015, a yearly increase of more than 15 percent.
Nearly 100,000 people, or about one-sixth of the city's population, are involved in the game-fowl trade, said Perhat Kadir, a government official who wants cockfighting to become a major industry and tourist draw for the city, which is famous for its vineyards and hot, dry climate.
"Just like Spain is famous for bullfighting, we hope that cockfighting can become a hallmark of Turpan," he said.
Cockfighting has been a pastime in Turpan for more than 280 years and a worldwide sport for much longer, though it has been banned in many Western countries and is controversial, even in China.
Unlike chickens raised for food, which mainly eat grain, game fowl are raised on sorghum, beef, walnuts, eggs and tomatoes. Fighting roosters are big and belligerent, with strong legs and cherry-colored cockscombs.
Following in the footsteps of his father and grandfather, Ismail Iblahim has been raising fighting cocks for 40 years. Before each contest, he takes his roosters out to sunbathe. After the match, he washes the exhausted birds in water infused with Chinese herbal medicine.
Called the "Cockfighting Czar", Ismail Iblahim is well-known in fighting circles. His roosters have won many gold and silver medals regionally. In contests held in early April, three of his roosters won their matches, two lost and five ended in a draw. "In a match, I can tell which rooster is going to win after only a glimpse at them," he said proudly.
He now works for Bari Hupur, known as "Cockfighting Bari", who has been organizing cockfighting contests for 10 years. Bari Hupur has a big courtyard for hosting matches, charges spectators an admission fee and sells refreshments.
Ismail Iblahim earns about 5,000 yuan a month from raising and training the birds, a handsome paycheck in the city, and his roosters are worth 10,000 to 30,000 yuan each.
Perhat Kadir, who heads a development team for the city's cockfighting industry, said a cockfighting association will be established by the end of the year to promote the sport and draw tourists from across China. "We are going to set up arenas in markets and bazaars to boost people's interest in the sport," he said.
He also noted that the industry will be strictly regulated. "We will bring it into the daylight from the underground so that illegal gambling is eliminated," he said.
Not everyone is enthusiastic about the city's new tourism strategy. Many consider cockfighting a form of animal cruelty, and the practice is not without controversy in China.
"The culture of a nation should progress along with its economic growth. Isn't it crooked to seek pleasure from two creatures fighting, even watching them die, in front of you?" asked He Yong, country director with the International Fund for Animal Welfare in China.
Ismail Iblahim said it was hard to watch his roosters get hurt, adding that he does take them to a vet for care when they are injured. In a recent match, his rooster "Black Chap" died after fighting for four hours.
An official from the Turpan Bureau of Culture, Broadcasting, Sports and Film, who identified himself only as Alim, said it never occurred to him the sport would be controversial. "I just hope that the traditional game can help locals improve their lives," he said.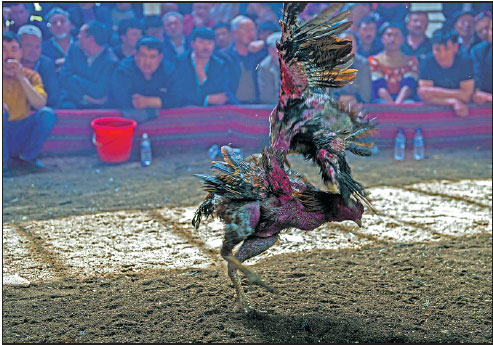 Cockfighting enthusiasts watch a match in Turpan, the Xinjiang Uygur autonomous region.Zhao Ge / Xinhua