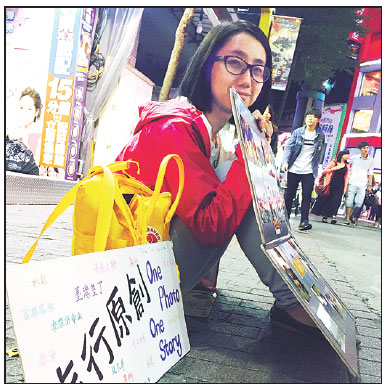 You Chang says she learned important lessons during her time off. In Taiwan (above), she shared a photo album of her experience. Provided To China Daily
You Chang, 28, shares her experience of setting off on a year's break and returning a better person.
I quit my job and started my yearlong independent traveling experience in July 2014. Before that, I had been close to burning out after having worked for a year at a website in Beijing, where I was an event planning specialist.
I was the kind of person who could not say no in the office and, for that reason, I had taken on way too much work. It got so that the workload was driving me crazy and I decided I needed to put everything on hold.
After I quit my job, I started traveling. Back then, I didn't think of it as a gap year - the term and the concept were unknown to me. But now, when I look back and think about it, I realize I was actually having a gap-year experience, and it was one I benefitted from greatly.
During that special year, I traveled to Guangxi, Yunnan and Taiwan in China and to Bali in Indonesia and to the United States.
While in Bali, I had my dream wedding, which was one of the most important and happy moments of my life.
I had long dreamed about having a nontraditional wedding that would be different from the weddings most people have in China. Such special days take a lot of time and preparation to become a reality and I would never have had such an experience if it was not for my gap year.
In addition, I learned to slow down and enjoy life during that year.
I had been a backpacker ever since I was at college, but before that year traveling had been all about rushing to visit one scenic site after another, and those earlier experiences had left me tired and bored.
Initially, I had continued at that same fast pace during my gap year, but I gradually changed without really noticing it happening.
Finally, when I arrived in the US, which was my last destination, I rented a room, cooked for myself and wandered around the cities, living life just like a local.
One day, while I was sitting on a bench in a park in Boston, looking at a beautiful lake, the cute ducks and adorable kids, time just seemed to stop and I felt at peace. At that very moment, I understood what real life was about - it was what I had been longing for.
After a whole year off, I returned to work in July 2015 for the company I had left a year earlier. It was the same employer and the same work but I was different. I had figured out what was important to me and what was not. I had learned how to say no. And how to manage my time wisely. And I was happier than I had ever been before.
I would not say such a transformation is only possible with the help of a gap year, but for me, that year certainly did make a difference.
You Chang spoke with China Daily reporter Zhao Xinying.