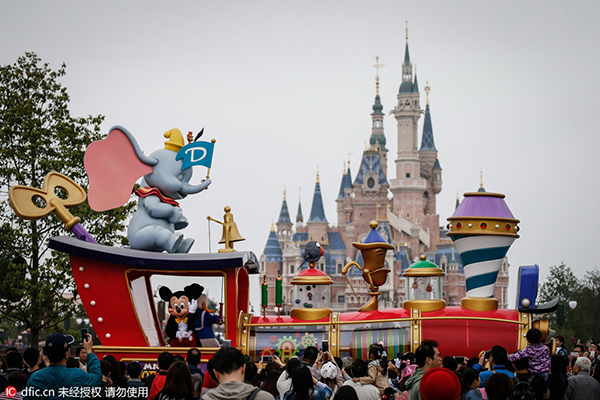 Mickey waves at tourists during a train-themed parade in Shanghai Disney resort on May 13. [Photo/IC]
Negative reviews during the trial operation of Shanghai Disney Resort haven't cooled down tourists' passion for it, as more flights to Shanghai are being scheduled by major airlines to handle an expected surge in tourist numbers, according to The Beijing News.
The newspaper estimates that the opening of Shanghai Disneyland will see an increase of about 3 million air travelers to Shanghai in 2016. Such a jump also means that airfares will go up when Disneyland officially opens.
For instance, the current price of a one-way ticket from Beijing to Shanghai is around 490 yuan ($75) after a discount of 60 percent. But it will go up to more than 620 yuan on June 17, the next day following the official opening of the resort.
And every Friday after Shanghai Disneyland opens will see a fare rise and fall afterwards.
Industry insiders predict that a large number of visitors will pour in Shanghai Disneyland after mid-July when the summer vacations begin, before which tourists will mainly visit on weekends.
Since the beginning of this year, more flights are being handled by Shanghai Pudong Airport, the nearest one to Shanghai Disney Resort. It's estimated that the number of flights will peak at around 1,370 to 1,410 per day after the opening of the resort.
Pricey food is one of the heated complaints among tourists during the trial operation. So how much does it cost to tour Shanghai Disneyland?
Based on the calculation of a tourism expert from Ctrip, China's leading online travel agency, it usually costs around 4,600 yuan for two people from Beijing to Shanghai on a three-day trip.
It's costlier than touring other theme parks in China, but more affordable than its Asian counterparts in Hong Kong and Tokyo.
Other analysts say that accommodations take up the major part of the spending. If tourists choose not to be accommodated in Shanghai Disneyland Hotel, the cost will drop to around 1,000 yuan per person for a three-day visit.
Wang Jianlin, the chairman of Chinese largest commercial property company, Dalian Wanda Group, said in a program on China Central Television that Disney won't be profitable in the next two decades in the Chinese market where Wanda dominates.
He said Disney will not succeed without innovation because the age when people were crazy for Mickey Mouse is gone.
Disney considers Wanda a major competitor, especially after Wanda made a move toward Hollywood by purchasing Legendary Entertainment at the beginning of this year.