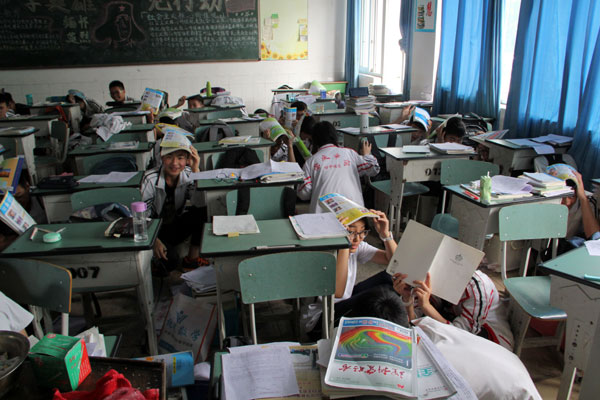 High school students in Chongzhou, Sichuan province, participate in an earthquake drill on Thursday. [Provided to chinadaily.com.cn]
An alarm sounded at 2:28 pm on Thursday at Chongzhou High School in Southwest China's Sichuan province.
Teachers told students to take shelter under their desks and cover their heads with their books or hands.
Within seconds, everyone was ordered outside to an evacuation point in the school playground.
This was not a real disaster, it was a drill held to mark the eighth anniversary of the deadly Wenchuan earthquake, which left 6,9226 dead and 17,923 reported missing.
Zhao Weidong, executive mayor of Chongzhou who was in charge of the drill, said such practice runs had been carried out all over Sichuan in advance of the anniversary, some using the earthquake early warning system.
At 2:28 pm on Monday, schools in Wenchuan and Beichuan counties and the provincial capital of Chengdu reacted to a simulated magnitude 8.0 quake.
The warning system sent information to the schools telling them when seismic waves were due to arrive.
"The seismic waves from the simulated quake were expected to arrive at our school after 17 seconds. The alarm from the system gave students time to escape to safety," said Gao Jian, headmaster of the Century Road South School in Chengdu.
His school had the earthquake early warning system installed two years ago. Since then, it has practiced regular earthquake drills in order to prepare students for the real thing in future, Gao said.
The real-time system sounds within seconds of a quake and can save lives when the tremors are magnitude 6.0 or higher because the warnings, transmitted via radio waves, travel faster than seismic waves.
"Radio waves travel at 300,000 kilometers per second, while seismic waves travel at 3 to 6 km per second. People who live in nearby areas may escape before the seismic waves arrive," said Chen Huizhong, a research fellow with the China Earthquake Administration's Institute of Geophysics.
China only started attaching importance to earthquake early warning systems after the Wenchuan earthquake. Japan and Mexico started much earlier, Chen said.
The country's early warning system now covers 30 provinces and has also been installed in Nepal to cover one-third of its geographic territory and half the population, according to Wang Tun, the creator of the system.
"Now, Nepal is the fourth country in the world to have an earthquake early warning system after Mexico, Japan and China," he said.