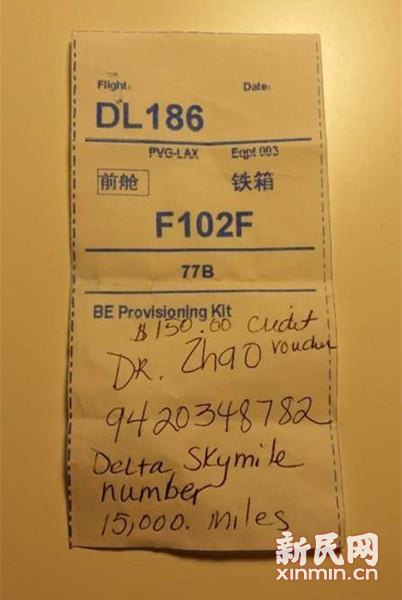 The photo shows the note of free miles presented by the airline staff.[Photo from web]
A doctor from a Shanghai-based hospital saved a middle-aged woman who passed out on an international flight from Shanghai to Los Angeles. After receiving treatment from the doctor, the woman finally regained consciousness.
The chief doctor at Shanghai Songjiang District central hospital, Zhao Yingchun, took the flight to Los Angeles to attend his daughter's graduation ceremony on May 12.
After nearly 6 hours' flying, Zhao heard a public announcement looking for a doctor to help a fainted passenger.
He then rushed to the passenger trying to give her immediate emergency treatment.
"I could not consult anything about her disease because she was in a coma at that time. The only thing I knew is the woman suddenly fainted as she returned to her seat from the lavatory," Zhao said.
The medical devices provided by crew members were a stethoscope and a blood pressure monitor, with the noisy environment of the plane also presenting difficulties.
"I could not clearly hear her blood pressure due to the noise made by the plane engine", Zhao said, but he still managed to treat the passenger.
Zhao checked the patient's breath, heartbeat and blood pressure every five minutes. After 15 minutes the patient mildly reacted and after 40 minutes she was able to talk.
He stayed beside the patient for one hour until she was completely recovered.
As the plane landed at Los Angeles airport, the crew members thanked Zhao for his timely aid and tried to give him 150 US dollars as an award.
But Zhao declined and said "it is the responsibility of a doctor".
Instead, the airline staff presented him with free air miles and an aviation souvenir to show their appreciation.