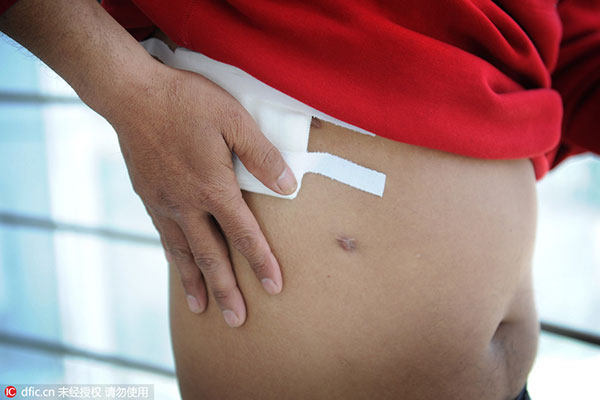 Liu Yongwei tells the story of his missing kidney on April 19, 2016. [Photo/VCG]
The Health and Family Planning Commission of Xuzhou, East China's Jiangsu province, has formed a panel of experts to investigate the "stolen kidney" case in a local hospital, which has aroused much discussion on China's internet.
Three experts from the thoracic surgery and urology departments and health authorities from the commission arrived at the Affiliated Hospital of Xuzhou Medical College on Thursday and have checked related medical records and materials.
A patient from the neighboring Anhui province, Liu Yongwei, told a local newspaper Xin'an Evening that his kidney was missing after receiving a surgery at the Xuzhou hospital in June 2015.
The story has attracted nationwide attention after it was released on Thursday.
Liu was transferred from a local hospital to Xuzhou after his tractor turned over and seriously hurt the right lung, right kidney, liver and some bones.
In April 2016, he was told that his right kidney was missing after having his infected left kidney checked at a hospital in Anhui province.
"The panel will have a meeting with the patient and arrange a third-party medical institution to examine his body," said Sun Jingsong, director of the commission's medical administration and management department. "His health will be fully discussed and the result will be released to the public as soon as the panel reaches an agreement."
The Xuzhou hospital on Thursday released an official statement, accusing the Anhui newspaper of distorting the facts and tarnishing the hospital's reputation.
According to the statement, Liu's right kidney showed on the two CT scan films of the health checks after the surgery was done.
"The kidney was found atrophied and hidden in his abdominal cavity," Xu Kai, director of the hospital's radiology department, was quoted by Chinanews.com as saying. Xu also said that Liu's blood vessel had turned calcified, which was another symptom of post-traumatic renal atrophy.