Chinese caregiver sentenced to death for murdering senior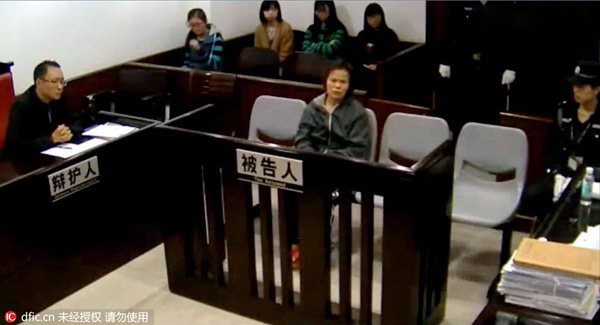 A screen shot shows He Tiandai at Guangzhou's intermediate people's court, Guangdong province, on May 4, 2016. [Photo/IC]
GUANGZHOU - A caregiver, found guilty of the murder of an elderly woman in her care, was sentenced to death by a court in South China's Guangdong province Wednesday.
Carer He Tiandai, 46, murdered her 70-year-old client in the woman's home in the provincial capital Guangzhou, according to a statement from the city's intermediate people's court.
He was hired on Dec 13, 2014. On the morning of Dec 16, she fed the victim soup laced with sleeping pills and pesticide and then injected the victim's body with the same solution once her client had fallen asleep. Later, she found her client still breathing, and so she strangled her.
He said she would not appeal her sentence.
She also claimed to have attempted to kill another nine clients, and succeeded in murdering seven of them. No lawsuits have been filed due to a lack of evidence.