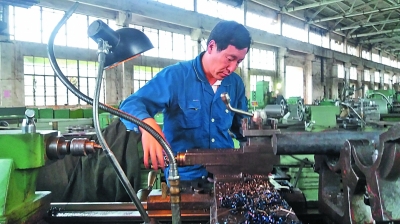 Geng Jiasheng at work. [Guangming Daily]
"A craftsman will not starve in a famine year," said Geng Jiasheng's father. It has been his motto ever since.
53-year-old Geng has been working at Kunming Heavy-industry Ltd Co under Yunnan Metallurgical Group for more than three decades. He has spent his entire career in the workshop.
Geng was recruited by the factory in 1984. The first skill he was told to master was how to sharpen a lathe tool.
"The lathe tool is the soul of lathe work," said Geng Jiasheng. "The lathe tool and products are artworks in my eyes. I polish them whole-heartedly."
Before long, Geng became an expert at skills such as lathing, boring, planing and polishing. Besides, he is also an innovator.
In 1993, the company Geng works at was tasked with producing a type of tower cranes. As the old processing technique was low in efficiency and costly, Geng and his workmates innovated to improve the process and reduced the cost by more than three fourths.
Since 2010, the team led by Geng has made more than 500 innovations and saved more than 1 million yuan (around $150,000) for the company. Geng said he has close to 200 technical innovations under his name.
For his excellent performance, Geng has won honors such as national model worker and master technician.
He also showed loyalty when his company hit hard times in recent years by shrugging off attractive offers from rival companies.
"Not everyone can stick to one job for more than 30 years," said Li Yixiong, one of Geng's disciples.