As China strives to increase participation in soccer, a sports university in Guangzhou, Guangdong province, has established a new college with the goal of developing the coaches and teachers of tomorrow.
The soccer college, which is affiliated to Guangzhou Sport University, will kick off operations in September. Some 100 to 150 students will be admitted in the first batch.
The students will be selected after this year's national college entrance examination, which is usually held in June, and are set to participate in four-year, bachelor degree courses.
"The establishment of the soccer college is in line with the country's bold soccer reform plan, with the aim of better promoting the sport in schools and colleges," said Zhou Yi, the executive director of the new institution.
With more than 20 teachers, the college will team up with a local soccer club to help in the training of coaches and referees who will hone their skills at primary and secondary schools in rural areas of Guangdong.
Guangzhou Sport University is the first in China to launch a specialist soccer college since Beijing announced an ambitious long-term plan in mid-April to further develop soccer. The plan calls for China to aspire to be a dominant soccer nation within Asia by 2030 and a world leader by 2050. The road toward that ambition will include nationwide promotion of youth participation and professional league development.
The outline for the soccer reform was inspired by President Xi Jinping last year when he said he wants to see China, which qualified for the finals of the World Cup for the first time in 2002, become a regular participant at the event. Xi said he would eventually like to see China host and win the prestigious tournament.
According to the outline, the number of students majoring in soccer in universities will be increased and more soccer colleges will be established.
In addition, a four-tier school league system has been set up by the Ministry of Education and the Chinese Football Association.
"The inauguration of the college was a signal of the country's efforts in developing soccer expertise in a professional way," said Jiang Zhixue, an official with the General Administration of Sport.
Educational authorities in Beijing have also vowed to establish soccer colleges in the capital, according to Xinhua News Agency.
Soccer insiders, however, said that students majoring in soccer will need to carry out after-class sessions if they want to become real soccer coaches and teachers.
"A student is unlikely to become a good soccer coach or teacher, if they received a four-year program without professional soccer playing experience," said Xie Liang, a veteran soccer commentator with Radio Guangdong.
qiuquanlin@chinadaily.com.cn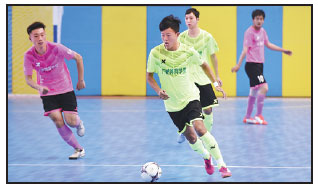 The Guangzhou Sport University soccer team competes during a match on April 13.Deng Hua / Xinhua
(China Daily 04/27/2016 page7)