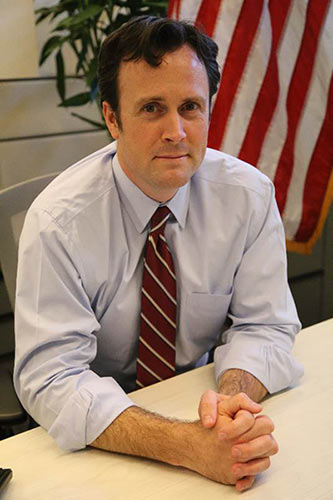 Holden Triplett, Beijing-based FBI agent who works to bring China's fugitives in the US to justice

International

cooperation key to returning China's economic fugitives from the US, says expert
They are the men and women who do the leg work, much of it tedious, unglamorous and unheralded, that will eventually bring some of China's most sought-after criminal fugitives to justice.
One of them, Holden Triplett, is an FBI special agent stationed in China whose life and career have taken him on an odyssey from a small town in Kansas to Texas, California, New York and Moscow before landing him in Beijing about 18 months ago.
That career path has also taken him from a position as an associate with two highly respected law firms to the less lucrative, if more fulfilling, rank of embassy attache.
For Triplett, the decision to make that career change essentially came down to one set of numbers, Sept 11, 2001, and one word, patriotism.
Sitting in his office at the US embassy in Beijing, Triplett recalled the horror of the terrorist attacks on 9/11 and the days that followed.
"It's almost impossible to describe the shock I felt when I heard about the attacks," said Triplett, 40, who at the time was studying for a law degree at the University of California, Berkeley, after earlier earning a degree in philosophy and Russian at the University of Texas at Austin.
His sympathy for the nearly 3,000 victims and solidarity with his fellow citizens put Triplett on his present career trajectory. After earning his law degree in 2003 and then working for two law firms for three years, he answered the call of an FBI recruiter and joined its investigations division.
After serving in New York for nearly seven years, an opportunity arose for him to use his Russian as an assistant legal attache in Moscow for two years before being posted to Beijing as a legal attache in 2014. Legal attache is the formal position for a special agent representing the FBI in a foreign country.
Triplett's arrival in Beijing coincided with an increasing degree of law-enforcement collaboration between China and the United States, including the capture and return of Chinese criminals who had fled to the US.
Triplett said he handled nearly 200 cases last year involving a wide range of crimes, including China's "most wanted" economic crimes fugitives.
One of the difficulties of any international cooperation, Triplett said, is the complexities of the distinct legal systems.
"Trying to figure out how they fit together and how to make them work smoothly is probably one of the most difficult things we do here," Triplett said. "Some of these cases can be the most complicated and they are also important to China. We understand that and we make sure we are taking these very seriously."
Complicated problems are one of the joys of the job, he said.
"I enjoy these complex legal problems. Oftentimes, we can find solutions to these when we work at them. Even if we've got very different systems, we can find a way to make them work together," he said.
"We are very concerned about any criminal that is trying to abscond from justice in the United States and so we work very diligently and have a lot resources focused on this matter. We do not want to have anyone use the United States as a haven."
In such endeavors, it is critical for the two countries to work closely together.
"My Chinese colleagues, of course, are all working diligently on this stuff as well and collaborate with us as we try to collect evidence of criminality."
However, juggling legal systems and two countries' different norms can be very difficult, "and then some", he said.
For example, obtaining the tax records of a suspect in China is relatively simple and usually takes a few days, but getting financial records can be extremely laborious, he said.
"We have a very good partnership with the Ministry of Public Security. They often facilitate our interactions with local public security departments. It has been a positive experience dealing with them," he said.
Triplett said the complex process ensures suspects get a fair trial. "The process can be frustrating because it takes a long time and we have to be very careful. But it is part of both legal systems."
Apart from adjusting to the legal environment, he has also had to get used to inconveniences, such as time differences that create long work days.
"Often I am working during the day with China and I am on the phone at night with the US," he said. "There is often travel back and forth coordinating all of this."
However, such drawbacks do not diminish his commitment to the work or his job satisfaction.
"The job has moral content. I was told at the start of my days with the FBI that one will never get rich working for the FBI. But generally, I have a good feeling at the end of a day. I feel I am doing something better for society and I am doing something good here for both societies."