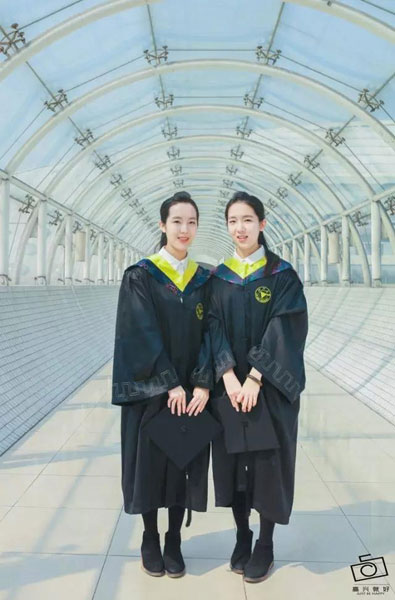 A graduation photo shows Ji Meixi and Ji Meiqi, twin sisters from Zhejiang University, who will go to London to study. One will attend University College London and the other, Imperial College London. [Photo from Sina Weibo]
Just days after a pair of identical twin sisters from Fudan University in Shanghai came into the online spotlight due to their admittance to Harvard University, another pair of twin sisters from Zhejiang University also are attracting attention.
Ji Meixi and Ji Meiqi, born in 1995, are from Changchun, Northeast China's Jilin province. From kindergarten through high school, they were in the same classes due to good academic performance. At Zhejiang University, Ji Meixi studied at the School of Materials Science and Engineering, and Ji Meiqi studied at the College of Electrical Engineering.