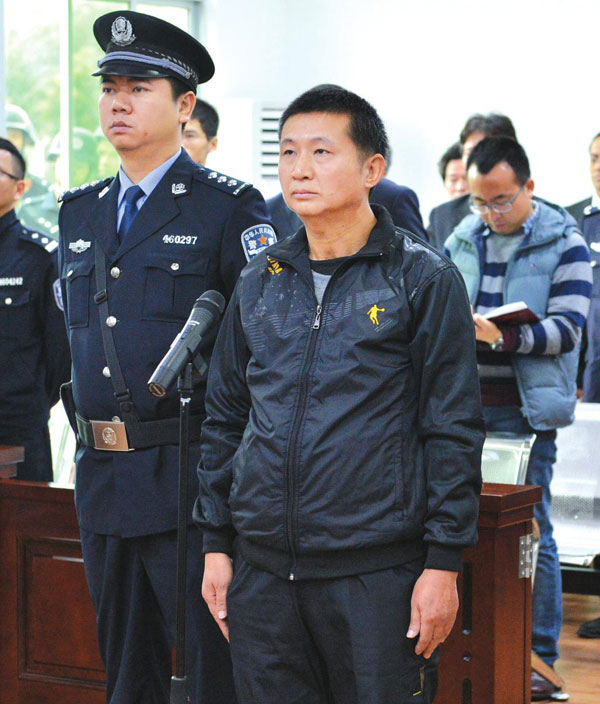 Chen Man, who had been wrongfully imprisoned for 23 years, was declared innocent in Haikou, Hainan province, on Feb 1, 2016. [Photo/Xinhua]
Lawyer Wang Wanqiong said that she was very surprised and moved to receive a WeChat message during the Lunar New Year from her client, Chen Man, who had been wrongfully imprisoned for 23 years.
"I didn't believe Chen, who had been imprisoned for such a long time, could use WeChat to send me Spring Festival wishes, as he has not been good at calling me with a smart phone since he was released," Wang said.
On Feb 1, the 53-year-old Chen, from Sichuan province, who was given a two-year suspended death sentence in 1994 for homicide and arson, was pronounced innocent in Haikou, Hainan province, because of insufficient evidence.
Wang said she was excited to see that her client had been freed, adding that her three-year effort to help his appeal was not in vain.
She clearly remembered the first time she went to visit Chen's parents in 2013, saying that their trust and determination to prove their son's innocence brought her not only confidence, but also pressure.
"I have never seen such abundant appeal materials piled up in a room in my 13-year career. All the documents were collected by the parents, both in their 80s," she said.
"I was so moved, depressed and shocked at the same time. Chen's parents were good at communicating and were sensible when they shared their opinions of the case.
"Chen's acquittal should be attributed to the progress of the rule of law and the efforts made by legal bodies to correct wrongful judgments in recent years. The idea of dealing with such cases has changed our judicial system, which also cheered me up."
Wang is negotiating how much State compensation should be paid to Chen and his family, and is helping Chen's physical recovery.
Chen, who got a physical checkup before the festival, plans to recover from the stomach disease he acquired during detention and spend more time with his parents.
"This past holiday was the happiest time I have had in over 23 years, because I finally got the family reunion that I most wanted in prison," said Chen. "Freedom is the most important thing and I'll cherish it and the time with my mom and dad." He noted that he will also try to fit into society, learn to use a smartphone, and increase communications with others.
He remembered the time he spent in jail, saying that he thought about why destiny treated him this way as he was making shoes, sweaters or batteries in prison.
"Thanks to judicial reforms put forward by the central leadership three years ago and the persistence of my family and lawyer, I was lucky to be proved innocent," he said.
"I have had some ideas about my future job and want to start my own business."
"But I know there are many things I should learn, so the first step for me now is to understand more about society, which is strange in my eyes."
Chen Yi, his older brother, showed excitement and hope for the future.
"I'm enjoying every second the family members get together now and I also believe my younger brother can live a better life," he said.
In Yunnan province, Qian Renfeng, who was acquitted in December after wrongfully serving 13 years in prison for poisoning children, is also facing reintegration into society. She was wrongfully sentenced to life imprisonment in 2002 when she was 17.
Qian Lunrong, her nephew, said that he accompanies her to find a job in the province's capital Kunming, "but it's too hard for her to be employed.""She didn't know how to use a mobile phone when she was released, let alone other high-tech tools. She's like a newborn bird that is curious about the world, but is afraid to fly far from home," he said. Wang also showed concern about the current social assistance for acquitted people.
"The social correction centers for helping the released to find jobs don't fulfill their role now," he said.
In other words, the efforts in building a "connection" between prisons and society should be further improved, Wang added.