Custom coaching focuses on specific individual needs to boost performance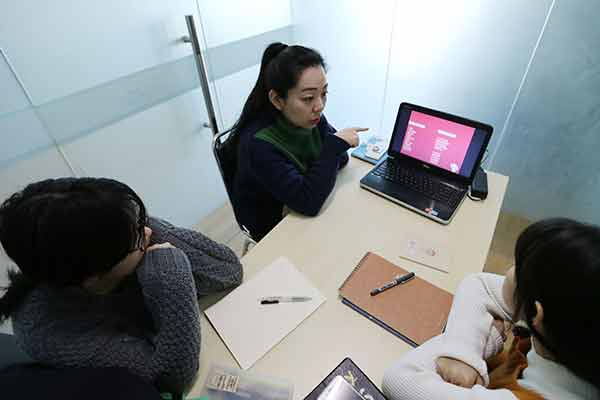 Two students take an English class at Menglish Academy, an education company that provides tailored coaching services to overseas study applicants in Beijing. WANG ZHUANGFEI/CHINA DAILY
Chinese students eager for good scores on international tests and secure enrollment at quality overseas universities have long turned to tutorial classes for help. Now such services are evolving to offer a more high-end - and costlier - type of tutoring that includes one-on-one coaching.
Conventional classes still teach the skills required for basic tests, such as the Test of English as a Foreign Language, the Graduate Record Examination and the Graduate Management Admission Test.
Some overseas study training institutes in China, while keeping their traditional large classes, are opening more mini-sized ones to meet the specific needs of some clients who want more attention and better guidance from teachers.
As Chinese students are facing increasingly fierce competition in their applications for study overseas, many are seeking different ways to stand out. Such tailored services are one approach that's attracting the attention of more students and their parents, said Zhao Li, who manages a department offering high-end coaching at Meitong Education, a Beijing company that offers test tutoring.
Zhao, who has provided the service for years, said the whole process of the one-on-one teaching service is like a medical inquiry and treatment.
"The student is given an overall examination to see what his advantages and weaknesses are. Then a targeted study plan is designed for that student to improve his ability," Zhao said.
The plan usually includes details such as which teachers are the most suitable for the student, which books should be read and how many hours the student should spend working on each section of a test. In some cases, there are teaching assistants urging students to finish homework and answering questions, she said.
The effects of the service are usually obvious, said Meng Jiafeng, founder and president of Menglish Academy, an education company established in Beijing in 2012 that has provided the tailored one-on-one coaching service to more than 60 overseas study applicants.