China gaining ground against graft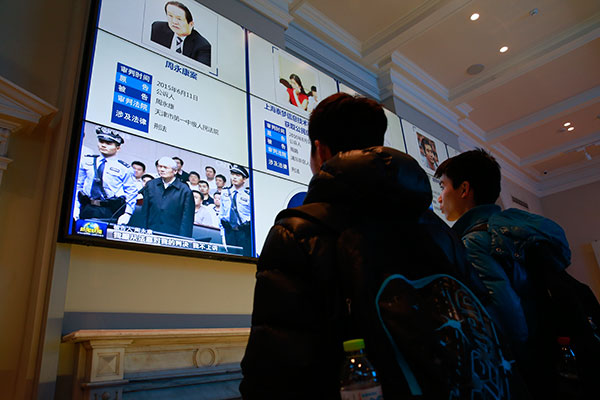 Visitors look at a display about Zhou Yongkang's trial at the China Court Museum in Beijing on Thursday. Zhou, the former security chief, was sentenced to life imprisonment in June for accepting bribes, abusing power and disclosing State secrets. FENG YONGBIN/CHINA DAILY
While China is gaining ground to overcome corruption, the Communist Party of China has continued the fight against corruption to ensure clean governance.
Over the past three years, the CPC has been working hard to redress the problem of being too lenient in managing the Party, and has striven to build a system in which officials "do not dare, are not able, and are unwilling to be corrupt".
The efforts are paying off, said President Xi Jinping, who is also general secretary of the CPC Central Committee, at the start of the three-day sixth plenary session of the 18th CPC Central Commission for Discipline Inspection on Tuesday.
Xi called on all Party members to "maintain confidence in the CPC Central Committee's anti-corruption intent, the campaign's achievements, the positive energy it brings and the prospects of our fight against corruption".
Gao Bo, a political researcher at the Chinese Academy of Social Sciences, believes the CPC is on the right path to advance the clean governance campaign.
The achievements of the campaign to fight corruption and promote frugality over the past three years prove that the CPC is capable of making changes to overcome corruption, he said.
In 2015, more than 40 centrally administered officials were expelled from the CPC for violating the Party's code of conduct.
Nationwide, 91, 550 officials were punished for corruption or violations of the Party's frugality rules.