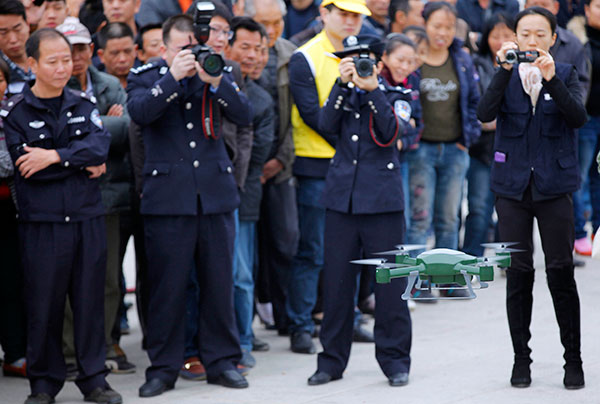 A drone to help crack down on illegal drugs in Huidong, Guangdong province, is demonstrated in 2014. Chen Weibin/China Daily 
Drones and other high-tech surveillance measures have been making a big impact in the fight against drugs and related crimes in Huidong county, Guangdong province, once known as a major production base for the so-called date-rape anesthetic ketamine.
Five drones have provided accurate data for police planning raids on drug labs, while also helping deter drug producers and traffickers, said Zhou Yongkun, Party chief of Huidong's Baihua township.
"Drones fly every day, mainly over local mountains, forests, large orchards and other target areas where police officers find it difficult to patrol and where secret drug dens might hide," Zhou said.
Located about 80 kilometers from the Shenzhen Special Economic Zone and 140 km from Guangzhou, the provincial capital, Baihua was once a major production base for ketamine, commonly known as K-powder. The drug produced in Huidong at one time represented about one-third of the total nationwide, police said.
Police busted three major gangs that were active in Huidong county and the eastern coastal areas of Guangdong during a special operation in October 2013. More than 1,000 officers participated, dealing a heavy blow to the illegal drug trade, police said.
Following on that success, the Huizhou city government invested more than 100 million yuan ($15.4 million) in a sustained crackdown.
In addition to the introduction of new equipment and high technology, some of the money was used to reward police officers who captured drug suspects and local residents who provided tips to the police about crimes over the past two years.
The effort also has led to the investigation or removal of 75 Party and government officials in Huizhou - including 49 Huidong officials - who acted as "protective umbrellas" for local drug activities and secretly tipped off gangs, authorities said.
The crackdown spurred the removal of Huidong from the national list of major drug crime areas on the mainland in October last year.
The reduction in drug crimes has allowed police to turn their attention to pursuing and capturing suspects who are on the run, Zhou said.