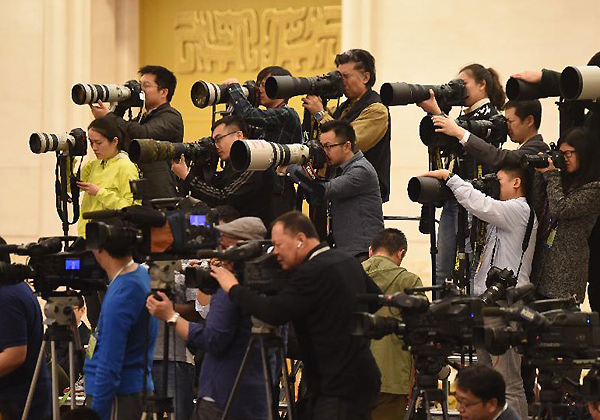 Journalists work at the news conference at the Great Hall of the People in Beijing, March 15, 2015. [Photo/Xinhua]
"The government should continue its efforts to not only remove the obstacles, but more importantly build the platform, to boost innovation and mass entrepreneurship," Li said. Government fund, tax cut and business registration reform are all effective measure to open market access and improve the environment especially for micro and small businesses.
And Li openly expressed his support for e-commerce in China. He said: "I like promoting new forms of business of e-commerce and related industries, because they create jobs, and stimulate consumption."
The aging of population has already been a concern for Chinese economy. Li said the government is assessing the effects of its population policy reform, taking into account the social and economic situations. "But the policy adjustment must be made according to the laws," Li noted.
The first foreign-affair question was on Sino-Japan relations.
After expressing China's principle on peace and history, Li said the root cause of the soaring bilateral ties is the different attitudes to history.
A state leader should not inherit the legacy of history, but also the historical responsibility, Li said.
"The Japanese people are also victim of the war … This year is the 70th anniversary of the victory of Anti-Fascist War is both a test and an opportunity for Japan." If the Japanese leaders can hold a responsible and constant view on history, there will be possibility and room for improvement of bilateral ties in political and economic realms.
Refuting the claim that China has surpassed the US as the world's largest economy through "taking a free ride of the US", Li said China's average per capita GDP is only ranked 80th in the world, and China still has 200 million people living under the World Bank's poverty line of 1.25-dollar a day. "China is still in every sense a developing country."
"With such a big size as China, it is impossible to take a free ride of anybody else. China is actually pushing the car together with the other countries," Li said. "The Sino-US relations are between the largest developing country and the largest developed country."
China and the US have more common interest than divergences. The two sides are negotiating bilateral investment treaty, which will break the ceiling of the bilateral ties, and send out the message that the countries will cooperate more closely with each other, Li said.
As for questions on Hong Kong and Taiwan, Li reiterated Chinese government's constant stance, principles and policies.