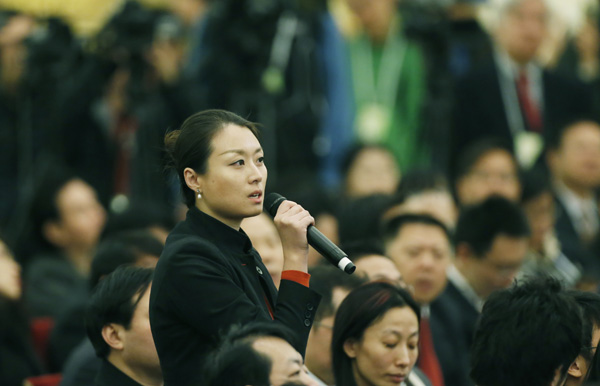 A journalist from China Daily raises a question at a press conference given by Chinese Premier Li Keqiang after the closing session of the annual National People's Congress, at the Great Hall of the People, in Beijing, March 15, 2015. [Photo By Feng Yongbin/chinadaily.com.cn]
Chinese government cut one third of its administrative approvals in two years, and the number of market subjects increased by nearly 50 percent year-on-year last year.
The government reform must be finished. It is useless to release the hand break while keeping the foot break, Li said.
To put the power under effective supervision, Premier Li urged the provincial governments to issue their "negative lists" of government's responsibility and power this year, and the city and county governments will have the lists in the next year.
Power abuse is a major issue in the government's reform.
"The key points of fight against corruption are to implement the rule of law, reform the institutions and improve the supervision and transparency of powers," Li said answering Beijing News' question on anti-corruption. "Apart from corruption, the inaction and irresponsible officials must be addressed."
Li also faced difficult questions on government's work, such as the environmental protection.
"The government has made great efforts to clean the air. But the effects are still far from the people's expectation," Premier Li said. "The new Environmental Protection Law must be implemented effectively … There should not be power superior to the law, or interference in the process, and there should be a strict accountability system to supervise the environmental watchdogs."
The energy saving and cutting emission targets are written together with the other key targets of the economy and society in this year's Government Work Report. Li emphasized that it takes time and joint efforts of the whole society. "If the environment cannot be changed soon, the people can change their way of behaviors."
In his reply to a question on housing market from the Financial Times, Premier Li Keqiang welcomed foreigners to buy homes in China. He said housing is not only an economic issue, but also concerns people's livelihood, vowed to fulfill the government's responsibility to ensure the poor people have houses to live in.
"The local governments should be responsible for the macro-control of local housing market … the central government hopes to see a steady and healthy growth of the housing market in the long run," Premier Li said.
The vitality of economy also comes from innovation, job creation and starting new businesses.