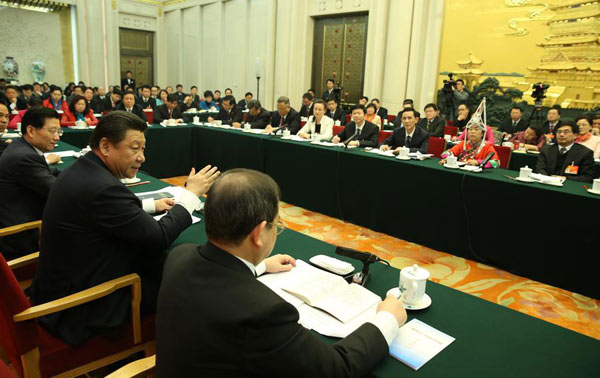 President Xi Jinping, also general secretary of the Communist Party of China (CPC) Central Committee and chairman of the Central Military Commission, gestures at a panel discussion with deputies to the 12th National People's Congress (NPC) from central China's Jiangxi province during the third session of the 12th NPC, in Beijing, March 6, 2015. [Photo/Xinhua]
GETTING UNITED AND STRONGER
According to Yang Yongchun, deputy head of the China Against Corruption Association, the annual two sessions play an important role in building consensus and pooling wisdom from different sectors of society.
"The sessions have become more participatory and inclusive. People from different sectors and those who have different interests can develop trust and share their visions," Yang said.
For local-level deputies, meeting Xi was very much inspiring.
Xie Zhongyan, who manages a nature reserve around the Changbai Mountain in Jinlin, was impressed by the president's interest in wildlife conservation and tourism in the reserve.
"He made instructions about Jilin's development, which gave me insight into the leadership's policies and priorities. I myself have a better idea about how to balance the development of tourism and environmental protection," he said.
Mei Guoping, an NPC deputy and president of Jiangxi Normal University, found Xi's perspective of his hometown "quite thorough and to the point."
"He listed three priorities for Jiangxi: poverty alleviation, environmental protection and counter-corruption. He was right -- these are indeed our most important issues," Mei said.
Jiangxi lags behind in economic development but boasts a good natural environment.
"As the president said, we should put our resources and ideas together to make best use of our advantages," he said.
During a panel discussion with deputies from Shanghai, Xi exchanged ideas with economist Zhang Zhao'an about the Shanghai FTA, a pilot project to test trade and investment reform measures.
"Talking with Xi boosted my confidence in the project," said Zhang, deputy head of the Institute of Economics at the Shanghai Municipal Academy of Social Sciences.
The NPC and CPPCC annual sessions gather consensus on Party strategies to realize the Chinese dream, implement the "Four Comprehensives," and boost morale in face of uncertainties, said Zheng Yongnian, a China expert with the National University of Singapore.
"This year's sessions not only displayed the Party's strong leadership but also delivered a message to the world that under the new normal (of slower growth), China is still a land of hope and opportunity," Zheng said.