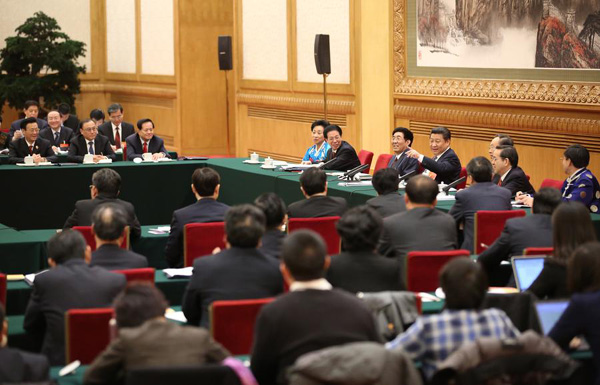 Chinese President Xi Jinping (back, 4th R), also general secretary of the Communist Party of China (CPC) Central Committee and chairman of the Central Military Commission, joins a panel discussion with deputies to the 12th National People's Congress (NPC) from northeast China's Jilin province during the third session of the 12th NPC, in Beijing, capital of China, March 9, 2015. [Photo/Xinhua]
BEIJING - Chinese President Xi Jinping on Monday called for new engines to revitalize northeast China's old industrial base amid the "new normal" of economic development.
The region should foster clusters of emerging industries by means of innovation-driven development as well as optimization and upgrading of industrial structure, he told lawmakers from northeast China's Jilin Province in a panel discussion during the annual session of the National People's Congress (NPC).
He urged deeper reform to break institutional bottleneck and release great vitality of the country's traditional manufacturing base, which has seen slow economic growth these years.
Due to the old growth model, economic growth of the northeastern provinces of Liaoning, Jilin and Heilongjiang trailed behind the national average last year, at 5.8, 6.5 and 5.6 percent respectively, despite its leading role in China to become industrialized in the last century.
Agricultural modernization should be advanced and realized first in some regions, Xi said, emphasizing modern systems concerning industrial management, production and businesses.
He also called for concrete efforts in improving welfare of the people so that the public could feel the changes and enjoy benefits.
Xi warned against pollution of "political ecology," urging officials to stick to discipline amid efforts to promote development.
"Political ecology is like natural ecology. It is easily vulnerable to pollution in an unguarded moment," he said. "Once problems arise, great price must be paid to recover."
Premier Li Keqiang joined deputies from northeast China's Heilongjiang Province in a panel discussion at the national legislative session.