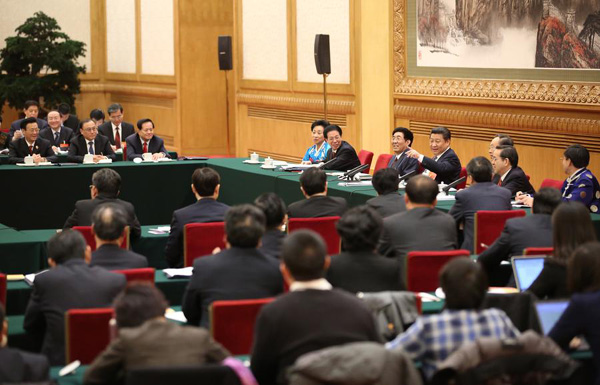 Chinese President Xi Jinping (back, 4th R), also general secretary of the Communist Party of China (CPC) Central Committee and chairman of the Central Military Commission, joins a panel discussion with deputies to the 12th National People's Congress (NPC) from northeast China's Jilin province during the third session of the 12th NPC, in Beijing, capital of China, March 9, 2015. [Photo/Xinhua]
Zhang Sheng, a deputy to the National People's Congress who runs a State-owned mining company in Heilongjiang province, has come to Beijing for the NPC's annual session this year with many questions.
How can his company shake off its financial difficulties-the worst since 2011-when coal, its main product, is being sold at the lowest price for many years?
Will there be a turning point in the continued decline in national coal demand, or have coal's glory days in China been ended by the nation's economic transition?
Zhang shares his deep concerns with many NPC deputies from the resource-rich and heavy industrial provinces of Heilongjiang, Liaoning and Jilin.
The three provinces, which make up the country's northeast, are facing a painful struggle to shed outdated and wasteful old industries to build new growth engines for the local economy.
As a gesture symbolizing the central government's commitment to rebuilding the northeast, President Xi Jinping and Premier Li Keqiang attended panel discussions of deputies from the provinces on Monday.
Xi joined the Jilin deputies, while Li met with those from Heilongjiang.
Jilin's GDP growth was 6.5 percent year-on-year in 2014, below the national average of 7.4 percent, while Heilongjiang's growth was only 5.6 percent, 2.9 percentage points below the province's target.
Xi said officials in the northeast should have realized sooner that the local economy's simple and old-fashioned industrial structure was unsustainable.