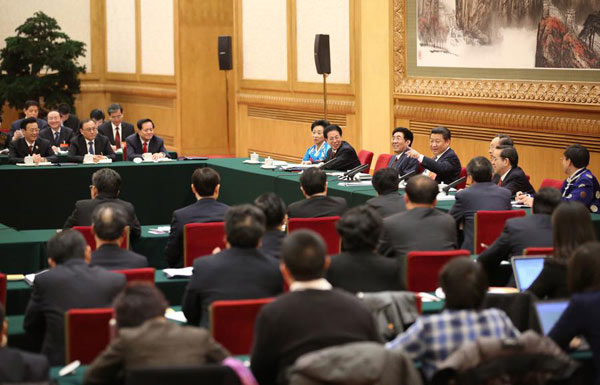 President Xi Jinping, also general secretary of the Communist Party of China (CPC) Central Committee and chairman of the Central Military Commission, gestures at a panel discussion with deputies to the 12th National People's Congress (NPC) from northeast China's Jilin province during the third session of the 12th NPC, in Beijing, March 9, 2015. [Photo/Xinhua]
TO THE ROOT OF PROBLEM
Xi has not only focused on the positive aspects during panel discussions, he has also offered his insight into areas where problems remain.
For Ren Kejun, an NPC deputy from Jilin, the day he expressed his views on agricultural development during a panel discussion attended by Xi is something he will not forget easily.
"General Secretary Xi raised more than 10 questions to me, inquiring about the prices of agricultural products and soil protection and so on. Each question was very important," said Ren, an agricultural expert.
Agricultural modernization should be advanced and realized in pilot regions first, Xi said during the discussion.
The president also spoke extensively on poverty-reduction and improving people's living standards. "No ethnic group, no region should be left behind," he said.
He promised to hasten the establishment of free trade zones (FTZs) and turn much-needed institutional innovation into a strong driver of development.
His comments on the environment even carried a slightly personal touch -- the environment should be protected in the same way that people "care for one's own eyes and life," he said, adding that the political environment should, likewise, be cleansed of corruption.
Xi has also called for the peaceful development of cross-Strait ties, urging high vigilance against Taiwan independence.
Many have said that the presence of Xi and the other six senior Party and state leaders at panel discussions offered an effective way to realize democracy and mobilize society.
Xie Chuntao, a professor with the CPC Central Committee Party School, lauded the fact that Xi had sat down face-to-face with lawmakers from various regions such as Shanghai and Jiangxi in the country's east, Guangxi in the south, and Jilin in the northeast. Xi also spoke with deputies from the armed forces and political advisors with Taiwan backgrounds.
"Xi solicited the opinions from a broader spectrum of people, which will help with formulating a more comprehensive development roadmap," he said.