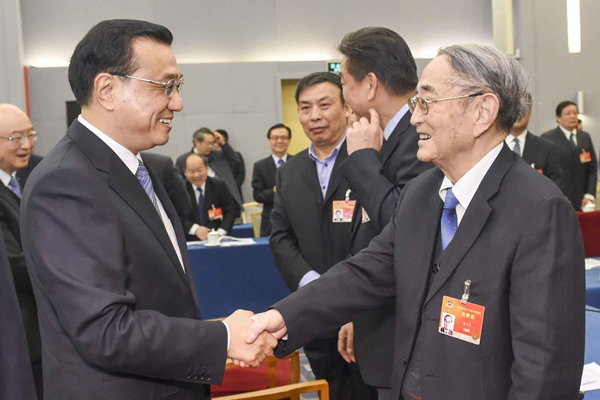 Premier Li Keqiang takes part in a discussion on Wednesday with members of the Chinese People's Political Consultative Conference who are experts on economics and agriculture and are attending the third session of the 12th CPPCC National Committee. [Photo/Xinhua]
Open mind on overseas toilet lid
Premier Li Keqiang asked Chinese entrepreneurs to take an open mind towards the massive overseas purchase of toilet seats by Chinese tourists, stressing that customers are entitled to more choices.
The remarks were made when Li took part in a discussion with members of the Chinese People's Political Consultative Conference (CPPCC) who are experts on economics and agriculture.
Li encouraged Chinese companies to upgrade their products to be more competitive compared with overseas counterparts. "At least we can save the air fare for our customers", Li said.
Chinese economy now focused on low and mid-markets, should reach out to mid and high markets. The shift itself will release huge potential for development, Li said.