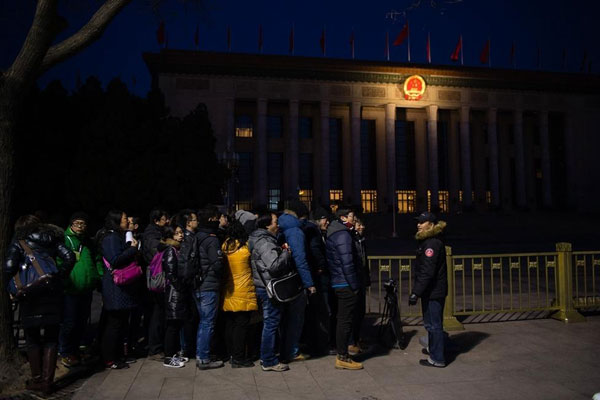 Reporters line up in front in front of the Great Hall of People early in the morning on Mar 5, 2015. [Photo/Xinhua]
Reporters burn midnight oil
As the two sessions attendees hotly debate China's future, the some 3,000 reporters from China and abroad may find themselves motivated by the same goal: to get the best spot for camera.
Premier Li Keqiang's delivery of his government work on Thursday was one of the major moments in the "two sessions". Many reporters were found lining up in front of the venue at 1 am although the event began at 10 am.
The "two sessions" each year has become a battlefield for media war. The war is becoming even crazier thanks to the proliferating use of new media among the Chinese public.
To win the battle, various media outlets are pushing envelopes. Printed media, radio, television and websites race to launch their convergence media works. Also, many omnimedia report teams have added tools such as selfie pole, Google Glass, QR code and Html 5 skill into the mix.