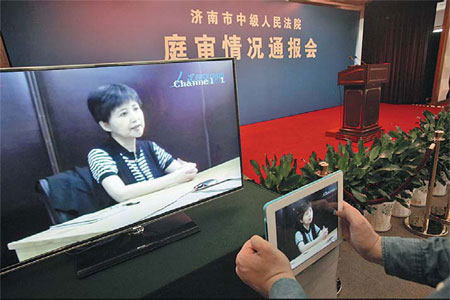 Jinan Intermediate People's Court plays video recordings of Bogu Kailai to the media in this 2013 file photo. [Photo by Wang Jing/China Daily]
A death sentence has been commuted to life in prison for the wife of a former high-ranking Party chief who was convicted in the fatal cyanide poisoning of a British man in a conflict over economic interests.
Bogu Kailai, 57, wife of Bo Xilai, former member of the Political Bureau of the CPC Central Committee and Chongqing former Party chief, was sentenced to death, with a two-year reprieve, in the Nov 15, 2011 murder of Neil Heywood at a Chongqing hotel.
Bogu Kailai is serving her sentence at Beijing Yancheng Prison, the Beijing High People's Court said. The prison had recommended the sentence reduction in September 2014, citing her good behavior in prison, and the request was publicly disclosed last month.
Bo Xilai, 64, was sentenced to life in prison for bribery, embezzlement and abuse of power in 2013.