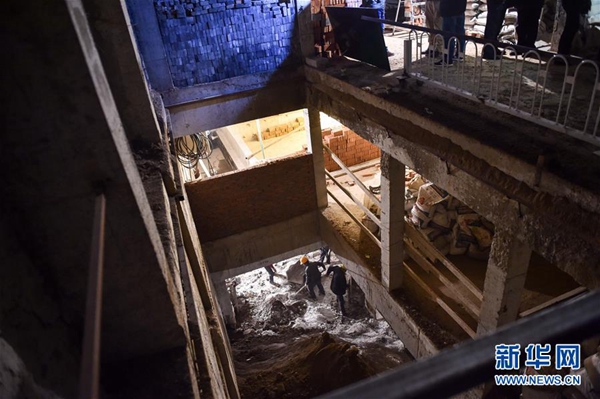 Workers backfill a hugebasement illegally dug under a private residence in Dongcheng district, Beijing, Nov 25, 2015. [Photo/Xinhua]
BEIJING - Workers have started to backfill a huge basement illegally dug under a private residence about three km from Beijing's Forbidden City.
The unauthorized basement of the house in Beiluoguxiang Hutong has three floors with a total space of over 700 square meters. The deepest part is 10 meters underground.
A law enforcement officer with the Urban Management Bureau of Dongcheng District said the backfilling is being paid for at an estimated cost of one million yuan (about $156,000) by the property's owner, who dug the basement.
Beiluoguxiang Hutong is very narrow, preventing trucks from entering and meaning workers must use carts to fetch filling materials. So the work is slow and may last for a month and a half. It has inconvenienced the neighborhood.
The law enforcement officer said private underground construction is illegal and should be punished. The unsophisticated digging and construction of the basement has caused cracks in the walls and surrounding road.
The owner surnamed Li told investigators that he had planned to use the basement as a parking space for a car rental business.
Beijing has seen lots of illegal underground construction.
Earlier this year, a lawmaker built an 18-meter-deep basement in his courtyard in downtown Beijing without permission. The basement caved in and caused the road and surrounding buildings to collapse.
Following the incident, radar was used to detect unauthorized basements throughout Beijing as the city seeks to eliminate the dangerous practice.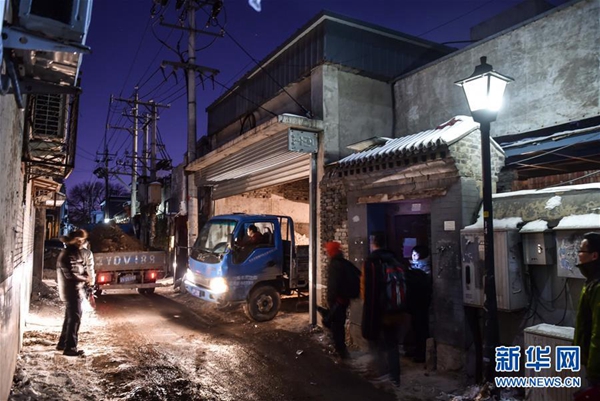 Workers backfill a hugebasement illegally dug under a private residence in Dongcheng district, Beijing, Nov 25, 2015. [Photo/Xinhua]