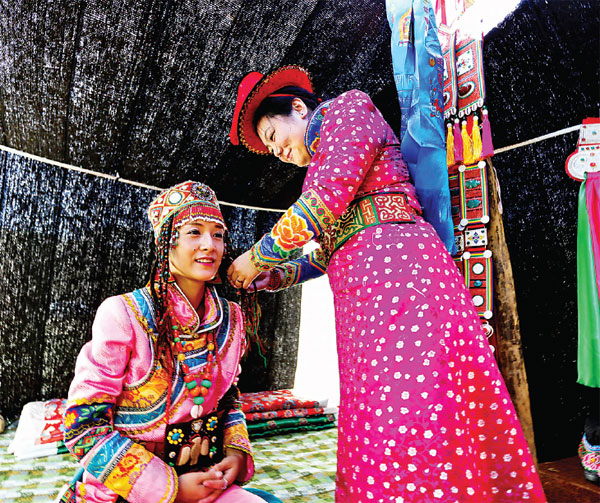 A Yugur woman in traditional ethnic costumes dresses up for her wedding in the Sunan Yugur autonomous county in Gansu province in August. Wang Jiang / For China Daily
Businesswoman Serkyi is a modern day Renaissance woman, known among the Yugur as a tribal "junkwoman", museum owner, horseback-riding elementary school teacher, khata maker and painter.
In her newly finished Yugur museum, which holds more than 1,000 articles she collected from tribal herdsmen in Sunan Yugur autonomous region, Gansu province, Serkyi is preserving and protecting the cultural heritage of those who live between the Tibetan and Loess plateaus.
Serkyi, 54, is known as a "junkwoman" in her tribe because "she collects everything about the Yugur, from needles to worn-out tools used to make leatherware to rotten burial gifts", said her daughter, Marjan Sun.
Two years ago, a businessman from South China offered to build her a museum in exchange for a porcelain bottle in her collection.
"I turned down his offer, even if I needed the money," Serkyi said. "There are about 10,000 Yugur people. The articles belong to them."
Lifelong hobby
She started collecting such things in 1978 when she began working as a "horseback" elementary school teacher in the grasslands after graduating from junior middle school.
"I had never thought the rubbish was so important for our people," she said.
She also collected the beautiful old handicraft wares created by Yugur folk artists.
"I have liked painting since my childhood. The beautiful patterns my mother embroidered on cloth and the picturesque landscapes of the grasslands inspired me to draw them on paper," Serkyi said.
She studied painting with Sun Renru, a researcher in a local museum, for eight years until she received an offer from the arts department to attend the Northwest University for Nationalities in Lanzhou, the capital of Gansu, in 1987.
She studied oil painting there. Her tutors, well-known artists themselves, told her when she graduated that if there were a distinguished Yugur oil painter, it must be her.
After leaving school, she worked at the public museum in Sunan and continued her old hobby of collecting "rubbish". She also painted the government's public and economic policies on plywood boards to make it easier for the Yugur herdsmen to understand.
"My husband is very supportive," Serkyi said. "He makes art works himself, and has never complained that I exhausted all our savings to buy the 'junk'."