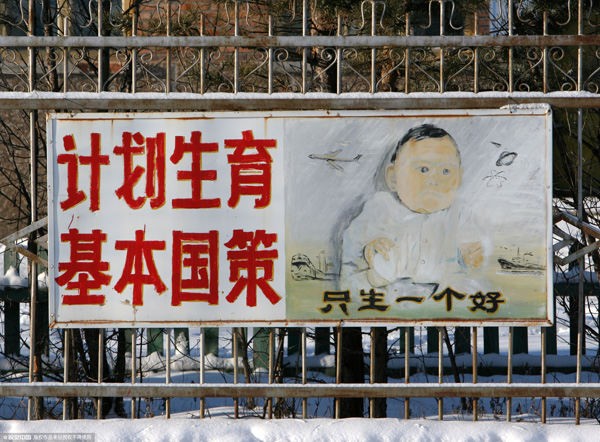 A poster states the one-child policy is a basic state policy in North China's Inner Mongolia autonomous region on Feb 10, 2006. [Photo/CFP]
CHANGSHA - A local official has revoked a statement about the effective date of China's "two-child policy" in central China's Hunan province, which placed him at the center controversy.
Zhan Ming, deputy director of the provincial health and family planning commission, was quoted as saying by the Hunan Daily on Oct. 30 that "those pregnant with a second child will not be punished as of today."
Zhan's statement was refuted by central authorities on Sunday, with the National Health and Family Planning Commission stressing that local affiliates must implement the current one-child policy until the new policy is ratified by legislators, and that local authorities in each province should not carry out the two-child policy "willfully."
In an exclusive interview with Xinhua on Tuesday, Zhan said that his claims were "based on the needs of the local population," but neglected "related legal procedures."
"We did not intend to implement the new policy willfully and we will wait for the time approved by the provincial legislators before carrying out the policy," Zhan said.
The Communist Party of China announced the abolishment of its decades-old one-child policy at the close of a key meeting on Oct. 29 in an attempt to balance population growth and offset the burden of an aging population.
According to a communique released after the plenum, a final plan for the policy change will be ratified by the annual session of China's top legislature in March.