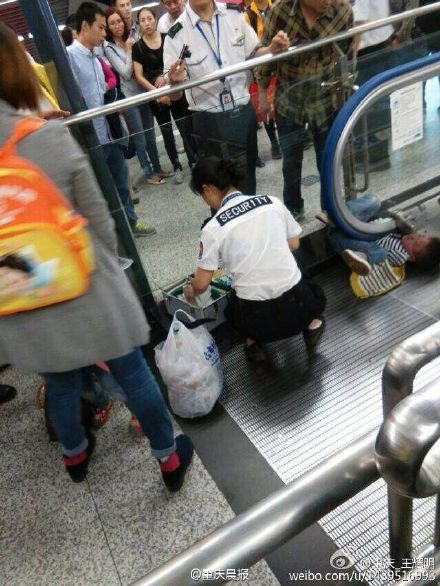 The picture shows the boy was stuck under the handrail of the escalator.[Photo/Sina Weibo]
A 4-year-old boy has been killed after getting trapped under the handrail of an escalator at a metro station in Southwest China's Chongqing municipality on Thursday, People's Daily reported.
The subway operator who owns the escalator said a woman left both the boy and a three-year-old girl unattended when the incident happened. It was not known if the woman was their mother, the Chongqing Morning Post reports.
The boy's arm became stuck in the handrail belt, apparently while he was playing on the escalator. He was rushed to hospital but later died.
According to the report, the escalator has been halted pending further investigation into the cause of the accident.
The tragedy is the latest of a string of accidents on escalators and lifts in recent months in China. In July 26, a woman in Jingzhou, Hubei province was killed on an escalator at a department store after pushing her young son to safety. Last month in Chongqing, a three-year-old girl got her arm stuck in a supermarket escalator.