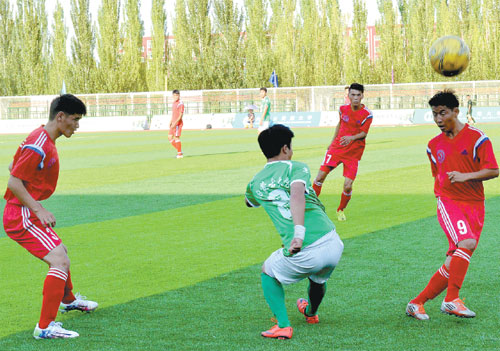 The varsity team of Inner Mongolia University (in green) plays against a college squad from Mongolia during the China-Russia-Mongolia University Football Invitational Tournament at Inner Mongolia Normal University on Sept 14. Provided to China Daily
After leaving professional soccer, Dai Qiang struggled to make a living. But now he has discovered a new job in the sport - as a coach at a primary schoolin Hohhot, in the Inner Mongolia autonomous region.
"Finally, I can make use of what I am good at for a living and pass on my experience to children instead of laying it aside," the 28-year-old said.
Thanks to the region's strategic plan to develop soccer - the first provincial-level pilot program on China's soccer reform blueprint - more ex-players like Dai have reinvented themselves to pass along coveted expertise in the development of an ambitious school soccer system.
Despite the increasing governmental investment in facilities and the organization of school leagues, a lack of qualified physical education teachers specializing in soccer has taken its toll on promotion of the game to the masses.
"We are shorthanded in the number of coaches and referees, while the school soccer system is expanding. It's been the biggest issue," Wu Gang, deputy director of the region's sports bureau, said recently from the sidelines of the China-Russia-Mongolia University Football Invitational Tournament.
The autonomous region's government contributed almost 50 million yuan ($7.85 million) to facility upgrades and talent training in 613 selected primary and secondary schools, where soccer is taught as part of the mandatory physical education curriculum, in the first half of 2015. It is part of a national plan to build 50,000 such schools by 2020.
More than 3,500 youth teams involving 65,000 student players participated in a four-tier school league system channeling primary school talent to colleges from March to July. It ignited passion for the game at the grassroots, said Badrah, director of the soccer administrative center of the region.
"The next major step is to cooperate with the educational authorities and sports institutes to host more clinics for youth soccer coaches and relevant staff," he said.
Soccer education authorities are also working on policies offering students who excel in soccer bonus points toward high-level school admission to encourage participation, Badrah said.
Early in March, the State Council issued a soccer reform blueprint aimed at promoting the game on campuses, building more soccer fields and optimizing the once bureaucratic management of the game, with the ultimate goal that China will qualify for the men's World Cup.
The vast territory covered by grasslands and mass sports participation as an ethnic tradition won the central government's favor in choosing Inner Mongolia as a pilot area to kick off the soccer development plan, Wu said.
Contact the writer at sunxiaochen@chinadaily.com.cn