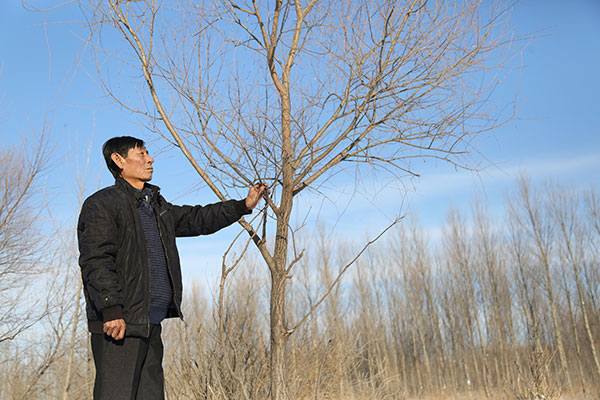 Dong Fucai, Party chief of Beidianzi village before his death, dedicated his life to tree planting to prevent the spread of sand in Fuxin, Liaoning province. Provided to China Daily
Whenever talk turns to Dong Fucai, people describe him as a "Mongolian pine tree".
Dong, 62, who died from liver cancer on March 21, was for 20 years dedicated to forestry planting to halt the spread of sand in Beidianzi, a village in Fuxin, Liaoning province.
The village lies at the edge of an area known as Horqin sand. Fifty years ago, the environment was seriously affected by strong winds and sandstorms.
Li Wanquan, a villager, recalled: "When the sandstorms came, the sand could shut our door. During spring, the gales could uproot the sprouting maize seeds.
"Thanks to Dong, our environment has seen dramatic change. Our lives have improved a lot."
In 1996, the local government wanted to relocate the villagers to a better area. As Party chief of the village, Dong insisted on staying to prevent sand encroachment.
Dong said in 1997, "Even if we had left, the government would have had to send in others to control the sand. This is our home. We should protect it ourselves." He continued to fight the sand.
However, no one in the village wanted to follow suit because they thought planting trees in sand was impossible.
In 1997, he borrowed 10,000 yuan ($1,610) to buy about 13 hectares of sand for planting trees. His only supporters were his wife and two teenage children. "We didn't want to follow him either, but he was so determined," Liu Yulian, Dong's wife, recalled.
It's hard to dig in sand, but Dong found a solution by watering an area before digging a hole.
However, it took him twice as long to do the work, and he was only able to plant fewer than 50 trees a day.
But his efforts have paid off. One year later, the trees he planted survived in the sand, and more villagers were involved in the work.
"It's really hard work. We had to bring water to the sand from far away ... and then carry buckets to sand dunes. ... Dong always worked with us and encouraged everyone," Li Wanquan recalled.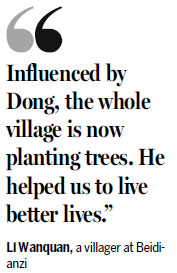 Dong Wei, Dong Fucai's son, said: "During that time, he slept for just four or five hours a day. He planted trees during the daytime and persuaded more villagers to join the planting work at night."
Dong Wei was always waked at midnight by the noise caused by his father beating his legs against the edge of a kang, (a brick-made bed in Northeast China) to ease the pain in them.
According to the local government, the efforts made by Dong and the villagers have resulted in the sapling survival rate increasing from about 20 percent to more than 85 percent.
In recent years, the village has planted more than 3 million trees, and the forest coverage there is now 48 percent. A 15-km forest belt has been built on the edge of Horqin sand, and the grain yield per 660 square meters has risen from 100 kg to 500 kg due to the environmental improvement.
Li said, "Influenced by Dong, the whole village is now planting trees. He helped us to live better lives and earn more money,"
However, Dong became ill, and was diagnosed with advanced liver cancer in November.
Dong Wei said: "Although he was very ill, the trees were still on his mind. When he couldn't walk, he asked me to drive him to the woods in our village. He said the trees were like his kids. Seeing saplings grow taller was the happiest moment for him."
Liu Yulian added, "His life was not easy. Now he has passed away, but we will take over his work to continue his 'green dream',"
Contact the writers at liuce@chinadaily.com.cn