China has been a good example for Madagascar in education, especially its commitment to information and communications technology in the classroom, said Andrianiaina Paul Rabary, education minister for Madagascar.
While in China for an international conference on the application of information technology in education, Rabary said he was surprised by the rapid development of China in all aspects, including education.
The country's education system has accelerated the development of the nation as a whole, Rabary said in late May during his second visit to the country.
"The information-based education system in China is a very good one, and the spread and application of the system offer opportunities not only to teachers and learners, but also to the government and the education industry, which will have profound effects on the country's education," Rabary said.
Overcoming difficulties
Rabary said Madagascar, an island country in the Indian Ocean off the coast of southeast Africa, has viewed China as a model to learn from and has sought to develop rapidly, just as China has.
"Like Madagascar, China used to be an underdeveloped country around the war era. But in recent years, China has evolved to one of the top developing countries across the world, during which I think education has played a key role," Rabary said.
Apart from China's specific teaching methods, Madagascar also is inspired by China's resolution and determination to overcome its previous poor and underdeveloped status, he said.
"China is doing great in setting a goal and making painstaking efforts to realize it," he said.
Taking the application of information and communications technology in education as an example, Rabary said what impressed him the most was that China had overcome many difficulties in popularizing the application of ICT education across the country.
"We can learn from China's experiences in overcoming difficulties and addressing problems during the process of making ICT a useful tool to promote the development of the country's education," Rabary said.
"This is very important for Madagascar, where more than half of the population of 2 million are young people under 25 years old," he said.
Madagascar is implementing a digital project at local high schools to help improve education quality. But a more urgent problem is a shortage of funds.
"Although we've received a great deal of financial aid and support from the international community and have built some primary and middle schools during the past 15 years, a lack of funds and schools still exists," Rabary said.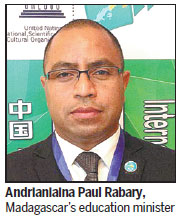 He said his country still needs to build 2,500 primary schools, 1,500 junior middle schools and 350 high schools, but the money is not available.
Close ties
Rabary said China has offered financial help and cooperation, and he hopes more will follow in coming years.
"Madagascar has benefited a lot from China's assistance, and a good example is that China has helped construct four high schools in Madagascar," he said.
He also said there are hundreds of students studying at universities of China, and many Chinese are working and living in Madagascar.
"Quite a lot of Chinese people living in Madagascar can speak Malagasy, our native language, which I think is an indication of Chinese people's friendliness and their positive attitude to integrate into our society," he said.
zhaoxinying@chinadaily.com.cn