Guangdong police have caught the lowest-level official among Interpol's 100 most-wanted Chinese fugitives suspected of corruption.
Wu Quanshen, 59, former Party secretary of Dadun village in Xintang, Guangzhou, was captured on Thursday in Macao and escorted back to the Chinese mainland, according to a statement of the Guangdong Provincial Commission for Discipline and Supervision.
He is suspected of making use of his position to accept massive bribes during village projects.
According to the local police, he fled to Guinea-Bissau, a country in West Africa, when the bribes were brought to light in March 2012.
The local watchdog received information that Wu was hiding in Macao in May, and the office established a working team and went to Macao to make the arrest.
With the assistance of the police in Macao, Wu was arrested on Thursday morning.
In April, Interpol released a list of 100 Chinese fugitives - 77 men and 23 women - sought worldwide for suspected involvement in corruption.
Most of the fugitives are former Party and government officials suspected of economic crimes who fled abroad, according to the country's top anti-graft watchdog.
Among the 100 suspects, the majority are former provincial or city officials. Wu is the only village Party chief on the "red notice" list. The red notice is a warrant indicating the person should be arrested with a view toward extradition.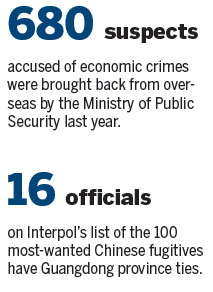 Among the 100 suspects listed are 16 people connected to Guangdong province.
Wu was elected as Party chief of Dadun village and served five consecutive terms starting in 1996.
He had been praised as a city, provincial and national model worker and was also elected a member of the Guangzhou People's Congress, according to Southern Rural News.
Four former village Party committee members were accused of being involved in accepting bribes during the village apartment project, and three of them were sentenced to two to five years' imprisonment in December 2012.
Wu dropped out of sight when he left the country in March 2012.
According to the CPC Central Commision for Discipline Inspection, the Interpol list is an important part of Sky Net, an action initiated by the central anti-corruption coordination group in April.
The campaign this year is aimed at chasing corrupt officials or others suspected of crimes related to their duties who have fled to other countries, and it also seeks to recover their ill-gotten gains.
The Ministry of Public Security said that in the second half of last year, it brought 680 people suspected of economic crimes back to China from 69 countries and regions, which was 4.5 times the number in 2013.
hena@chinadaily.com.cn