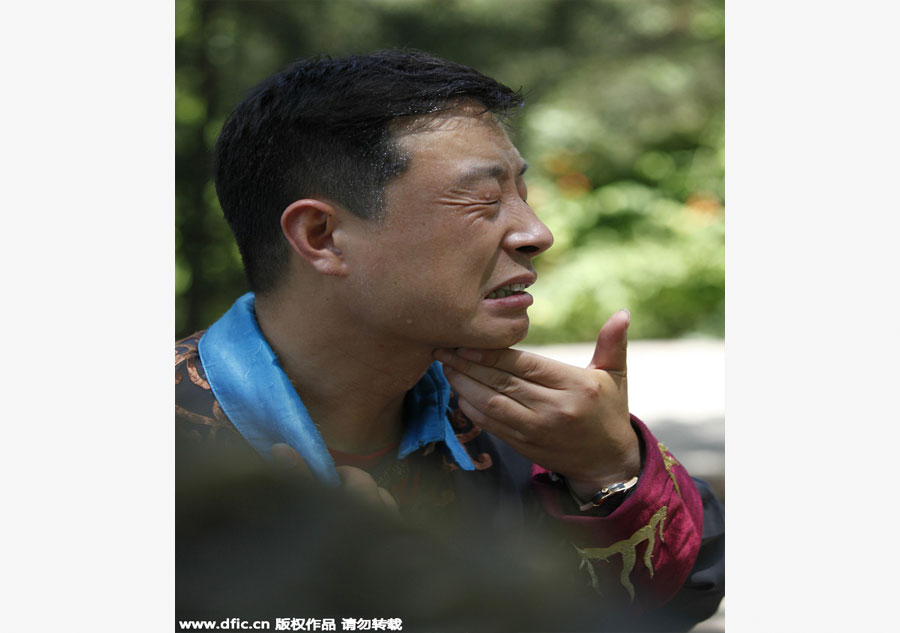 Qin Jinlin, dressed in an eunuch costume, wipes the sweat on his chin with his hand at Huangcheng Xiangfu, Jincheng city in North China's Shanxi province in July, 2015.[Photo/IC]
Qin Jinlin, 34, a renowned tour guide with 12 years' experience at Huangcheng Xiangfu, a national AAAAA scenic spot in North China's Shanxi province, dresses as a royal eunuch for work in a special routine that has won him fame.
Qin has been popular among tourists because of his impressive performance at the scenic spot's famous historical reenactment where he welcomes the emperor as an eunuch and his witty way of telling stories about the scenic spot since he started working here in 2003.
By studying Peking Opera, performance and learning historical stories on his own, the tour guide formed his unique performance introducing the scenic spot. It has made him very popular with tourists, who come from as far away as Serbia.
Though he is so famous that many tourist groups all want to be guided by him, Qin is also a good father and husband to his family. He does all the housework in his family and spends more time with his family members, especially his daughter if he can, because Qin thinks"taking care of his wife and children is a man's basic responsibility."
Due to his outstanding contribution to the scenic spot, Qin was given a residence at the worker apartments of the scenic pot in 2008. Since then, his family has moved out of the scenic spot's worker apartments to build a happy life outside.