Urumqi student benefits from tuition-free plan
While many college graduates are setting off for their first jobs in new cities, Gulijahan Amat, a student from the Xinjiang Uygur autonomous region, is ready for fresh start back home.
This month, she will be teaching history at No 23 High School in Urumqi, the region's capital, following a program that provided her with a tuition-free education.
"I felt lucky to study for free at one of the best normal universities in China to prepare myself for my dream job - to teach and encourage more students like me who want to go and see the outside world," she said.
Gulijahan Amat was one of 29 students who majored in education in her class at Beijing Normal University and benefited from the policy that provided a free education for students majoring in that subject. The university started the program in 2007 with the requirement that students must take a job in schools or pursue a higher degree in education after graduation.
Gulijahan Amat said her youthful dream gradually changed into bigger goals after she noticed the imbalance in educational resources between her hometown and economically developed cities in eastern China.
"Even though I had a hard time catching up with my classmates, I have improved a lot as I worked hard and got instructor-led training, from basic strategies of how to present materials in class to how to connect with students in a positive way," she said. "And I cannot wait to put learning into practice back home."
When asked about the most essential qualities of a good teacher, she recalled how President Xi Jinping encouraged her on Teachers' Day last September.
"To be caring and to be compassionate, just as he said," she said. "I will keep that in mind for sure in my future teaching."
Wang Yanfei contributed to the story.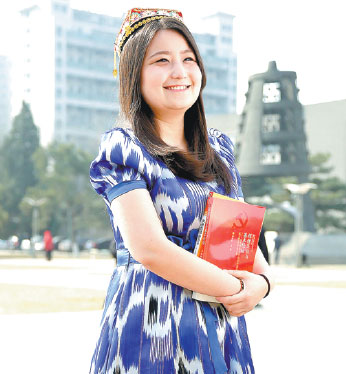 Gulijahan Amat looks forward to returning home after majoring in education at Beijing Normal University. Provided to China Daily