Local government helps housewife entrepreneur create a successful carpet-weaving business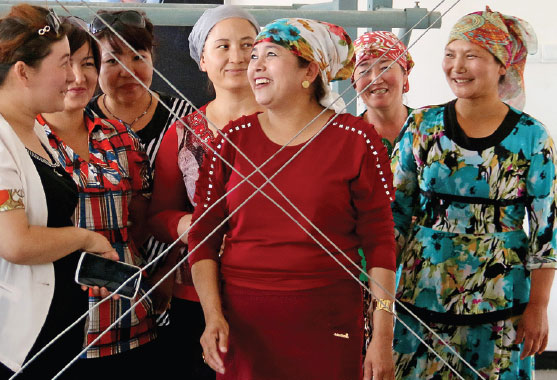 Guliayisham Memet (center) talks with co-workers at her carpet factory in Toksun county in the Xinjiang Uygur autonomous region in June. Provided to China Daily
After baking nang, a kind of crusty pancake, for her husband and children early in the morning, Guliayisham Memet puts on a brightly colored silk dress and rides her motorcycle to the carpet factory 3 kilometers away from where she lives, a small village in Toksun county in the Xinjiang Uygur autonomous region.
Some who see her cheerful and energetic face might find it hard to believe that she had worn a burqa, an Islamic garment that covers the entire body, for more than 20 years. Following her family traditions, Guliayisham Memet seldom went out, with almost no contact with the outside world, even after she married a man in another village.
The turning point came in July 2013, when she finally decided to take off the burqa after she participated in an educational campaign launched by the local government.
After learning that she was an expert in weaving carpets, the local government soon helped her start a company in the rural entrepreneur training base. The company, Silver Scissors Carpet Cooperative, primarily sells handmade traditional carpets.
"It was really unbelievable when I looked back," said Guliayisham Memet, who is now in her 30s. "I feel so wonderful now, making a living with great passion and with my own hands."
With only 20 female workers at the beginning, the cooperative now has 58 who have followed her path and decided to make a living on their own. The production area has doubled in size in two years to its current 600 square meters.
"I decided to join the cooperative after I heard about how she made a fortune," said Zumet Mehmut, a worker in the factory. "Why not make money in the village while I can take good care of my parents and children?"
Standing in front of a photo hanging on the wall, Guliayisham Memet recalled how Zhang Chunxian, Party chief of Xinjiang, encouraged her to help more women around her make a difference.
"Zhang was impressed with how our cooperative developed in merely two years," she said. "He ordered three carpets and was very satisfied with our self-designed patterns with flowers and red flags.
"As we come into more revenue, we are expecting to hire more people and increase the average salaries to 2,500 yuan ($403) per month by the end of this year," she added with great confidence. "I hope that with upgraded technology and equipment, we can sell our carpets to other places in the future."
Wang Yanfei contributed to the story.