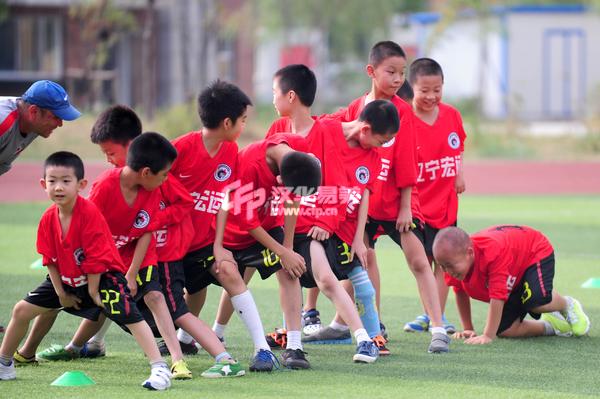 A group of children take part in a soccer summer camp in Shenyang, capital of Liaoning province. Provided to China Daily
EF Education First Kids & Teens China, a Swedish-owned global language teaching company, has published a guidebook, Nine Golden Rules to be a Global Citizen, for every child attending its summer camps to inform youngsters about good behavior and encourage them to be global citizens.
"As a committed education company, we hold the belief that 'education breaks boundaries in the world', which makes us feel obligated to promote proper behavior among youngsters," said Adele Bai, general manager and executive vice-president of EF Education First Kids & Teens China.
Youngsters heading to summer camps will be told to study the guidebook before they depart.
The guidebook contains advice on lining up, speaking in a gentle voice, and minding other people's personal space. To make it more readable, the book contains illustrations and explanations of the tips.
"We invited education experts from China and abroad to write this bilingual guidebook based on their understanding of Chinese and Western cultures and etiquette. A growing number of Chinese people are keen to travel overseas, but Chinese tourists have been labeled as an 'undesired' group because of cultural differences and lack of etiquette," Bai said.
She hopes the guidebook will not only teach children but also influence their parents.
Wan Pei, lead teacher of an EF summer camp in the United States, said the guidebook and communication before departure will give camp members and their parents an understanding of what to do and what not to do overseas.
"Some parents are not aware of ill behavior, so it is also a lesson for parents," Wan said.
Wan led a three-week study tour with 17 participants ranging in age from 14 to 17 years to the United States last summer.
"Camp members saw some ill-behaved Chinese tourists, people talking loudly in public and cutting in line for the public restrooms. ... They would know that those were examples of bad behavior and attempt to avoid them," Wan said.
The bad behavior of Chinese tourists prompted the China National Tourism Administration to introduce a measure on April 7 to regulate tourist behavior by keeping records of bad behavior.
A Chinese passenger threw hot water at a flight attendant on a flight from Bangkok to Nanjing in December, forcing the captain to turn the plane around and return to Thailand.
Another tourist, Li Wenchun from Shaanxi province, climbed a statue of the Chinese Workers' and Peasants' Red Army in Wuqi county at Shaanxi province.
Both incidents have been recorded.
More than 100 million overseas trips were made by Chinese residents in 2014, according to the China National Tourism Administration.
luowangshu@chinadaily.com.cn