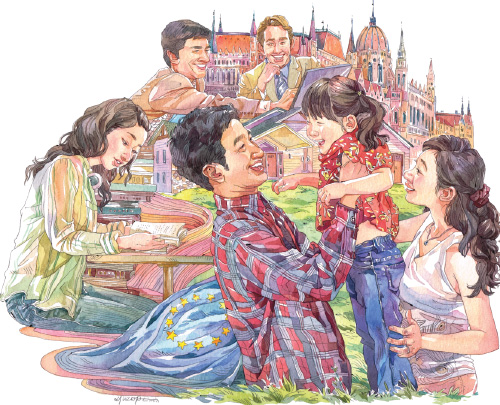 LI MIN/CHINA DAILY

Opportunities for education, business drive migration, along with cleaner air
It is not just distance that separates Hebei and Hungary. The northern Chinese province has a population of more than 72 million and a GDP of $379 billion. The European country has a population of less than 10 million and a GDP of $225 billion.
Small, however, can be beautiful.
"I worry about my children's education, food quality and the air pollution in China," says Li Huitong, who is planning to swap his homeland for the landlocked Eastern European nation.
"Europe is rich in cultural heritage and the cost of living is low." The married father of two, who is a deputy general manager of a company in Shijiazhuang, will become one of more than 9 million Chinese nationals living abroad should he take the plunge.
Li has done some research into house prices and schools in Hungary. His relatives support his decision. He knows a few families who have already relocated to Europe, and he has friends who are also interested in emigrating.
"I plan to stay overseas for six months a year. My goal is to get my children well educated and set up my own business and enjoy life," Li says.
Hebei has some of the worst pollution in China. Seven of the country's top 10 polluted cities are in the heavily industrialized province, according to February data from the Ministry of Environmental Protection. Shijiazhuang, where Li lives, was ranked the third most polluted city in China. Air pollution has become a factor in the Chinese decision to migrate, according to a March report from the Center for China and Globalization. Other reasons to leave include education-the Chinese student population has soared in Europe-and investment.
Thierry Mariani, a French politician from the Union for a Popular Movement, presented a paper on Chinese immigration to the Parliamentary Assembly of the Council of Europe's Committee on Migration, Refugees and Displaced Persons on April 23. In it he said the increase in Europe's Chinese population offered opportunities and challenges, and that the influx of Chinese immigrants should be approached in view of "the potential for economic growth" that these individuals represent.
Figures vary on how many Chinese people live in Europe. The United Nations Department of Economic and Social Affairs puts the number at about a million. The Council of Europe, which includes Russia in its calculations, says it is 2.8 million. Statistics do not always take into account the student population, let alone the number of undocumented Chinese immigrants in the continent.
What is known is that the origin and socioeconomic profile of Chinese immigrants to Europe has changed, as have the numbers leaving China. Europe may not be the most popular destination for overseas Chinese, but it is an attractive proposition for them.
The Schengen Area, comprised of 26 European countries, has eased freedom of movement in the continent but it is not to be confused with the European Union. People can travel within the Schengen Area for up to 90 days in a 180-day period on one visa. It is not, however, a path to permanent residency or citizenship.
Par Liljert, who heads up the International Organization for Migration's office in Beijing, says EU member states granted various European nationalities to 13,200 Chinese, which ranked 12th among foreign nationals gaining citizenship of a EU state. China was the largest source country of immigrants to the United Kingdom in 2012 and 2013, and the number of Chinese immigrants in Germany increased in 2013.
"With the Chinese authorities having loosened restrictions on movement, and the EU's simplified visa application procedures for Chinese applicants, China has become the third-largest tourist origin country for the EU Schengen Area-1.5 billion visa applications from China in 2013," Liljert says.
"The number of Chinese students in EU countries is generally increasing, particularly in the UK, Finland, France, Italy, the Netherlands and Sweden. China has become the largest source country of overseas students in Britain and Germany."
The UK, France, Italy and Spain host nearly three-fourths of all Chinese immigrants in Europe, according to a 2013 report from the Europe China Research Advice Network. There is particular growth in Italy and Spain, where they are entrepreneurs and work in the textile and fashion industries.
Other European countries, including Romania, Hungary, Bulgaria and Portugal, have also attracted more Chinese immigrants in recent years, sometimes through residency and investment programs. Eighteen percent of work authorizations in Romania in 2011 were issued to Chinese, and the Chinese are the third-largest group receiving work permits in Lithuania, according to the Organization for Economic Cooperation and Development.
Amy Liu, an assistant professor in the Department of Government at the University of Texas at Austin, specializes in the study of Chinese communities in Eastern Europe. She says: "Nobody wakes up in China thinking, 'Hey I want to move to Hungary or Bulgaria'. But they offer stability and a way to bring family over. The Chinese communities (in these countries) provide cheap goods ... there was a period of them being viewed as competition. We're seeing more successful Chinese companies and you have Chinese buying up companies and businesses. They're saving dying companies, but they're seen as a threat."
There is no causal link between increased Chinese immigration to Europe and trade, but Mariani's report is one of several to suggest that policymakers should pay closer attention to the benefits that Chinese communities bring to their host countries. Chinese companies in Europe are worth billions of dollars, they employ tens of thousands of people and are profitable. But at the end of 2010, only $16 billion of China's total outward foreign direct investment of $317 billion was in Europe. There is room for growth.