Inn owner hopes to provide more jobs as his ventures expand
Tibet's biggest land port, Khasa, has lifted many border residents out of poverty over the past three decades and brought even more opportunities for them to improve their quality of life.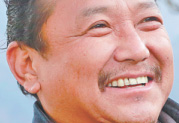 Located in a thick forest on a hillside in the town of Dam, Lixin village-or Ladrong as locals call it-is a settlement of Sherpa, an ethnic group with a very small population that lives in the Himalayan valleys in the border areas of China and Nepal.
Phurba, a native of Lixin, quit his comfortable job in the public sector two decades ago to run his own businesses.
When he graduated in the 1990s, Phurba was the first university graduate in his village. "I could make myself very comfortable with a regular job, but I couldn't help my relatives and villagers much," Phurba said.
The 48-year-old said many of his relatives and villagers had hard lives due to harsh living conditions and low literacy rates 20 years ago, so he quit his job to try to help them. At Khasa Port, where he worked previously, Phurba learned to speak five languages.
When he returned to Dam, he operated an English-language training program for a year.
After this, he traded wool and cloth at Khasa Port for several years. But he has kept to his original plan and has supported several of his relatives' children for their schooling over the past two decades.
Mantsi Droma, one of Phurba's nieces, said, "Thanks to the support from Phurba, I had no economic difficulties at school."
Phurba spent six years at Khasa Port trading across the border and four years in Nepal running a medicine business in the 1990s. He made yet another change three years ago when he shifted his focus from border trade to tourism.
Tourist attraction
Lixin is on a slope near one of the Himalayan valleys, with good ecological features, attractive landscapes and the unique Sherpa culture.
Phurba predicts that the village will soon become a tourist attraction.
Last year, he built an inn in a mix of Nepali and European styles-the first family-owned inn in the village. Following Phurba's example, the number of family-owned inns has increased to 10, and five restaurants opened within a year.
The local government has planned to turn the village into a tourist destination, and has invested heavily in the construction of tourism infrastructure.
However, last month's earthquake has halted such development.
The magnitude-7.9 quake that struck Nepal on April 25 also shook the border village. Although it caused no casualties there, it forced locals to relocate to nearby Lhaze county, where they are staying in tents before move to Xigaze.
But Phurba and other villagers are looking forward to returning to their own village.
He is optimistic about the village's tourism prospects. Its attractions include snow-capped mountains, primitive forest, ancient religion and the customs of the Sherpa people.
Before the quake, Phurba's family-owned inn had eight staff members, including a Nepali cook and waiter.
With 20 beds and catering services, the inn brought in more than 150,000 yuan ($24,190) in its first year. Village officials helped Phurba with its design and decoration, and he received financial help from the government.
More than 10 households in the village invested jointly in the inn. Phurba plans to expand his business by developing a vegetable farm and a chicken breeding center in the village.
"I hope that as my business gets bigger, I can provide more employment to villagers," he said.
Contact the writers at daqiong@chinadaily.com.cn
Quick bio
Name: Phurba
Age: 48
Hometown: Lixin, Tibet
Job: Inn owner