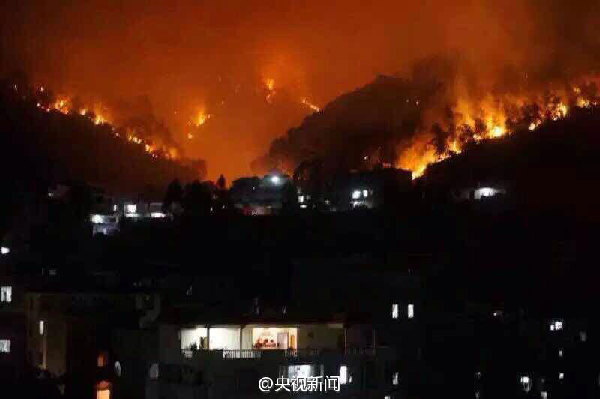 View of the forest fire from a residential area in Wuzhou, South China's Guangxi Zhuang autonomous region, on April 4, 2015. [Photo/Sina Weibo]
NANNING - A forest fire that broke out on Sunday continues to rage in south China's Guangxi Zhuang autonomous region, local authorities said. No casualties has been reported.
The blaze broke out in a forest in Youjiang District of Baise City at 5:25 pm on Sunday. The burned area of forest has reached up to 300 mu (20 hectares) as of now.
A liquefied gas station was threatened due to the strong wind. Two fire trucks were dispatched to the scene. The fire around the station was extinguished at around 6:20 pm.
More than 50 firefighters are working to put out the blaze.